Even if you haven't seen Jeremiah Johnson, you've probably seen Jeremiah Johnson – that is, at least, a few seconds of it. The "Jeremiah Johnson Nod of Approval" gif, according to Know Your Meme, "is often used as a reaction image indicating a form of approval," as Robert Redford, in full bead and bushy hair, smiles and nods affectionately. The image has been circulating since roughly 2012-2013, an eternity in Internet time, which I guess speaks to the power of a handsome mountain man offering a gesture of encouragement (though apparently Redford's identity was a real mindhole-blower for some of its dimmer users).
Now that Jeremiah Johnson is streaming on HBO Max, we can all put that gif in context, thank goodness, and the real surprise is what a throwaway moment it is – it shows up right around an hour into the movie, as part of a montage of our hero becoming comfortable and happy with the life he's made for himself, and the unlikely, makeshift family he shares it with. How that image because so ubiquitous is a topic for another time, but if it gets people to watch this lovely frontier adventure, well, all the better.
It opens with an overture, rousing music over still image of the man silhouetted against the vast landscape; there's also an intermission, two touches usually reserved for much longer, "epic" pictures of the 1950s and 1960s. Jeremiah Johnson clocks in at a trim 115 minutes, though, so these devices aren't serving a practical function. Instead, they're markers, director Sydney Pollack's way of tipping hit hat at the classical tradition he's working in here.
"His name was Jeremiah Johnson, and they say he wanted to be a mountain man," intones the opening narrator. "Nobody knows whereabouts he come from, and it didn't seem to matter much." When we meet him, he's clean-shaven, wearing an Army cap, and he looks like a tenderfoot – and he is, as evidenced by his first, clumsy attempts at hunting, fishing, and building a fire. Those scenes prompt giggles, but they're not just jokes, or even points of an evolution; we're struck by his determination, by how set he is on learning these skills and becoming this new version of himself, no matter how long it takes to do so.
That stubbornness and dedication to long-set notions of masculinity and self-reliance are the clearest indications of the footprint of co-scenarist John Milius. It was one of the first produced screenplays by the famously gregarious and politically conservative writer/director, but his voice and style are already firmly in place, and like his next '70s Western, John Huston's Life and Times of Judge Roy Bean, it's the best version of his chest-thumping masculinity: one that has a sense of humor about itself. Jeremiah Johnson's finest quality is its delightful eccentricity – bizarre characters, colorful colloquialisms, dark humor.
And, like many of the "revisionist" Westerns of the late '60s and 1970s, it eschews earlier oaters soft-peddling of the brutality of the West. Some of this was merely the era; in those pre-MPAA rating days, there was only so much blood and violence filmmakers could show. But this was also part and parcel of the New Hollywood ethos, revisiting and demystifying beloved cinematic genres and forms, and emphasizing the rot that was always lurking under their surfaces.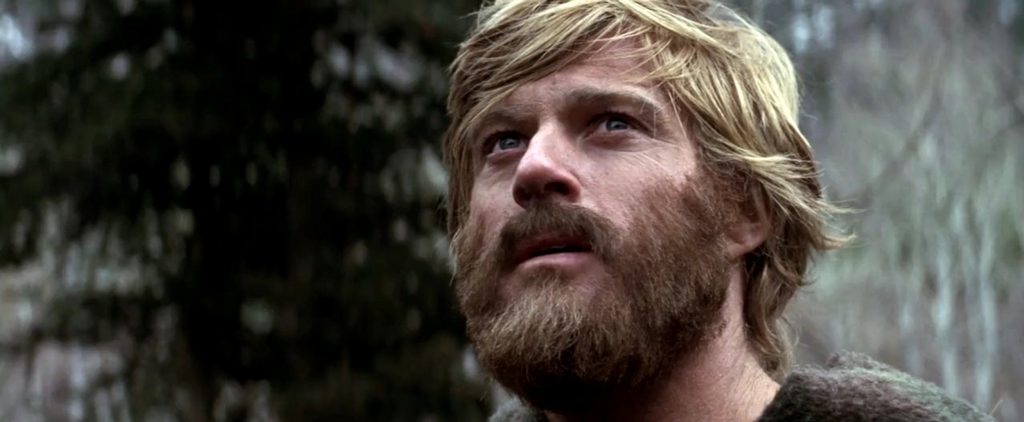 In the case of Jeremiah Johnson, this creates compelling tension – because Milius is a conservative, so these new-ish ideas are at war with the traditionalism of his narrative. The makeshift family he's nodding at in that ubiquitous image is an orphaned boy who doesn't speak, and Native American wife who can't speak English, and though these peculiar connections are initially played for laughs, a quiet, kind affection develops between them. But happiness is always fleeting in a movie like this; when Johnson (under duress) accompanies a Calvary troop on a rescue mission that takes them across a sacred Crow burial ground, the Crow kill his family in retaliation. He grieves (the potent combination of anger and grief, rendered in a series of brief but powerful close-ups, marks some of Redford's finest acting in the picture), and then he sets out for revenge.
The picture's swing into that mold is something of a disappointment, because such single-mindedness of purpose eliminates the enjoyable detours and sidebars of the first half. And while it's effective – the violence lands with blunt force – it also makes the picture oddly messy, with Milius's "kill the savages" messaging at odds with the gentler revisionist perspective found elsewhere in the script (perhaps in the contributions of credited co-writer Edward Anhalt, or the uncredited work by Pollack's frequent collaborator David Rayfiel), and in Pollack's direction.
Whether that section works or not, it wraps up nicely; there's circularity to the storytelling, reuniting the character with those he met earlier in his journey, and the later interactions are noticeably bittersweet. Jeremiah Johnson is based on both a novel (Vardis Fisher's Mountain Man) and a non-fiction book (Raymond W. Thorp and Robert Bunker's Crow Killer), and that sounds about right; it feels like a mixture of memory and folklore, history and mythmaking. "And some folks say / he's up there still," go the lyrics of the closing song, and to this day, they may be right.
"Jeremiah Johnson" is currently streaming on HBO Max and available on Blu-ray from Warner Archive.