We have been feuding about the moral "goodness" of protagonists for decades, and it's an argument that Martin Scorsese would scoff at probably as easily as he smirked at the Marvel Cinematic Universe or Todd Phillips's Joker. Few filmmakers have challenged fans as consistently as Scorsese when it comes to "problematic" main characters: gamblers, assassins, even missionaries, given where you fall on that whole religion thing. You might not agree with these men, or approve of them. But the cultures that bore them, the communities in which they move, and the interior lives that compel them are fascinating places in which to spend some time, and Scorsese has been testing us, for years, in terms of how much humanity we're willing to extend to people who might be the worst of us.
Practically all of that ideology can be traced back to his third feature, 1973's Mean Streets (now streaming on HBO Max). A dizzying slice of life in New York City's Little Italy that flirts with cinema verité techniques and pulses with the intensity of Harvey Keitel and Robert De Niro's performances, Mean Streets was borne out of Scorsese taking to heart John Cassavetes's assessment of his 1972 film Boxcar Bertha: "You just spent a year of your life making junk." Scorsese then spent another year of his life making Mean Streets, a film that serves as a spiritual counterpart to his first feature, 1967's Who's That Knocking at My Door. Inspired by Scorsese's own neighborhood on Elizabeth Street in Little Italy, his own life, and his own friends, Mean Streets is dotted throughout with the kind of violence that would, somewhat inaccurately, define Scorsese's career for a long time.
Contemporary reviews were fairly rapturous. A December 1973 profile of Scorsese by Guy Flatley in the New York Times described the film as "gut-raw, yet strangely operatic," and drew a line between Mean Streets and Who's That Knocking at My Door by focusing on the films' respective protagonists: "a sensitive young Italian-American drifter, an emotional cripple whose relationships were poisoned by prejudice." For The Washington Post, Tom Shales called it a "portrait of traumas and terrors … unrelenting, breathless, and definitely on the brilliant side." But sure, Mean Streets had its detractors. In a piece for the New York Times titled "Why Feel Sorry For These Hoods?", Foster Hirsch called Mean Streets "extravagantly overpraised" and concluded on the criticism, "No heroes, no values, universal corruption—and a lot of people are buying this as a profound and original truth."
Sounds familiar, no? Those are the same complaints people have lobbed in the years since Mean Streets at Taxi Driver, at Goodfellas, at Casino, at Gangs of New York, at The Departed, at The Wolf of Wall Street, at The Irishman. And yet Scorsese (in between other decidedly not-mafioso masterpieces like Alice Doesn't Live Here Anymore, The Last Temptation of Christ, The Age of Innocence, and Hugo) keeps making those kinds of movies. Why? Because the most important thing fiction—books, cinema, TV, whatever—needs to do is be interesting, and that can run the gamut from confrontational to reflective to subversive to insightful. Perhaps you would prefer to only consume that dreaded word, "content," which reaffirms your personal beliefs or your ideologies or your way of life. Perhaps you are disinterested in extending empathy or understanding to characters who make mistakes, or who behave badly, or who struggle with their sense of self. I accept your disinterest, and I also say: Aren't you bored?
Whatever else Mean Streets is, it's never boring. The film follows Charlie Cappa (Harvey Keitel), a twentysomething torn between a deep belief in his Catholic faith and the desire to be somebody in the criminal enterprise run by his uncle Giovanni (Cesare Danova). Charlie lives with his mother, who embroiders his initials on the snazzy clothes he wears, and he has great reverence for the teachings of his priest. But we see neither of those characters onscreen. Instead, in a sort of fluid stream of consciousness that flows from hour to hour and day to day and is accompanied by narration of Charlie's inner thoughts, we spend time with him and the other members of his uncle's organized crime enterprise.
On the sidewalk outside the Italian deli Giovanni uses as a front, biting into fresh baked bread. In the bars and restaurants where Charlie travels to collect regular payments to his uncle, a wide smile on his face as he tries to assuage these people over how he's reaching into their pockets. In the club run by friend Tony (David Proval) and frequented by loan shark Michael (Richard Romanus). In his meticulously fitted three-piece suits, with a fresh shave and shined shoes and manicured hands, Charlie presents himself as a professional, not a thug. "I do my own penance for my own sins," Charlie says to explain how he reconciles his vocation with his religion, and the personification of that penance is Charlie's best friend, perpetual fuckup Johnny Boy (a pre-The Godfather Part II De Niro).
In contrast to Charlie's cleanliness and confidence, Johnny Boy is a bomb ready to explode; in fact, he has a tendency to drop sticks of dynamite into USPS collection boxes and revel in the ensuing chaos. The Mafia is run on order and rituals that Scorsese loves to painstakingly capture (dinner negotiations in Mean Streets; the razor slicing of garlic in Goodfellas; bread and wine in The Irishman), and Charlie knows he has to follow them to get ahead. And yet Johnny Boy is his best friend, a kind of brother with whom he can banter (the endless stream of "After you!"s at Tony's bar), let loose, and mess around in a way that he can't with the stricter, more regimented associates of Giovanni's. After a night spent walking all of Little Italy's streets, the two climb into bed next to each other, wearing their white tank tops and patterned boxer shorts and cross necklaces, with an ease and familiarity that can only come from knowing every single thing about each other. But "honorable men go with honorable men," Giovanni tells Charlie, and the lying, debt-ridden Johnny Boy is not an honorable man. So who does Charlie want to be? And how does the narrowness of Little Italy stifle that, instead of satisfying it?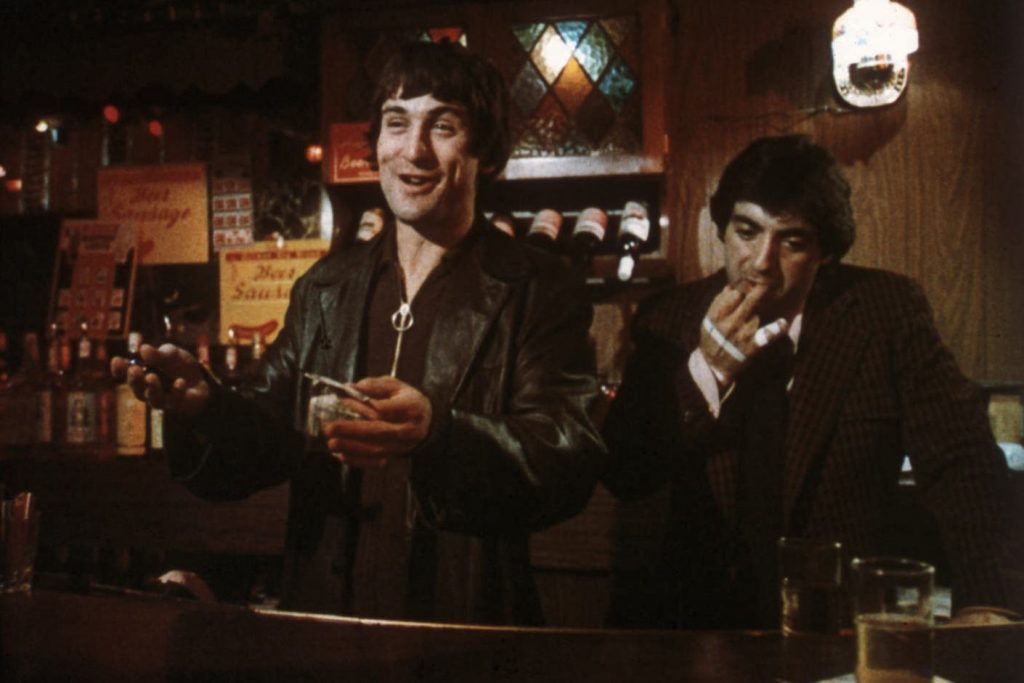 Charlie is in perpetual motion, often complemented by needle drops from the likes of the Rolling Stones and The Ronettes, as would become Scorsese's custom. And as would also become his custom, the filmmaker tracks Keitel's kinetic energy with a camera that is always over his shoulder—and is often getting bumped into during one of the many scraps which Johnny Boy instigates, and into which Charlie is dragged. That dynamic listlessness helps capture that whenever Charlie pauses, he second guesses all his choices, plagued by the judgments, doubts, insecurities, and prejudices of his community. He's attracted to a dancer at Tony's club, but convinces himself not to date her because she's Black. He's probably falling in love with Johnny Boy's cousin Teresa (Amy Robinson), but her family and Giovanni call her "sick in the head" because of her epilepsy. So Charlie tests himself physically by holding his hand over an open flame over and over again, and tests himself mentally by trying to advocate for and defend Johnny Boy. "Even numbers runners are hard-working guys," Scorsese told Flatley, but is that enough for Charlie?
Like the protagonists in The Taking of Pelham One Two Three, most of the men at the center of Mean Streets can be relied on for intermittent bursts of racism, sexism, and bigotry that complicate any assumptions that a film's main characters should also be embodiments of upstanding morality. None of the men's cruelties should be forgiven—and it would be an utter misread of Mean Streets to think that Scorsese is asking us to forgive them. Instead, Scorsese is clear about Charlie's mental anguish: "The worst of the two is the spiritual," the character says of pain. And Scorsese and co-writer Mardik Martin are intentional in writing Charlie's discomfort when he realizes that perhaps all he could ever be is some low-level tough running errands for a more powerful man. "You give your word about something, you gotta keep it," Charlie says, but that promise hasn't gotten him very far.
Keitel carries all that weight easily at first, all gliding dance moves and convivial tones, until the authority he so craves jeopardizes the people he so loves. Consider the contrast between Keitel's sloppy looseness during cinematographer Kent L. Wakeford's frankly astonishing reverse POV tracking shot set to the Chips' "Rubber Biscuit," and the honesty and fragility of Keitel's frustrated aside to Robinson's Teresa when she asks him to stop protecting Johnny Boy: "That's what's the matter. Nobody—nobody tries anymore." How strange to read in Hirsch's piece that "Johnny Boy and Charlie don't change, they don't have any perception about their crummy, crime-ridden lives, and yet we're asked to respond affirmatively to these blunted characters." Mean Streets is all about change, all about perception, and all about how those blunted edges are simultaneously nature and nurture, weapon and protection, and defense and offense. Are these characters "good"? No—but why should they have to be? Scorsese flourishes in those dualities, and Mean Streets is the first brick laid in a foundation of cinematic style that has always worked to understand the spiritual toll of both sin and forgiveness.
Mean Streets is streaming on HBO Max.