Women orgasming in movies remains rare enough to be a thing. These scenes can be played for laughs (When Harry Met Sally, Easy A, The To Do List), or communicate secret passion (The Miseducation of Cameron Post, But I'm a Cheerleader, Ammonite), or mark a coming of age (Premature). They can manifest as cries of desperation (Monster's Ball), or declarations of servitude (Mary Queen of Scots), or even as malevolent warnings (The Counselor, Black Swan, Showgirls). But cumulatively? Still few and far between, especially in contrast to the decades during which the sex comedy genre has been feeding and fueling men's fantasies.
You can blame puritanical, evangelist America and its aversion to any sexual expression but that of white, cis-het men for this, of course. It took 20 years to get from Cameron Diaz unknowingly using Ben Stiller's semen as hair gel in There's Something About Mary to Juliette Binoche writhing herself to completion in the fuck box of Claire Denis's High Life. Moments of female pleasure were so long frowned upon by the Motion Picture Association of America's ratings system that filmmaker Derek Cianfrance had to fight the organization in October 2010 on its initial NC-17 designation for Blue Valentine, caused by a scene in which Ryan Gosling's Dean performs oral sex on Michelle Williams's Cindy. Two months later, the MPAA blinked, and the film received an R rating without Cianfrance having to make any cuts. Meanwhile, primarily male-driven sex comedies like Porky's, American Pie, and Hall Pass had no problem securing R ratings. (Meaning, as the New York Times discussed in an anxious piece about Porky's in 1982, that children under 17 years old could still see the films in theaters with adult supervision, an accommodation that NC-17 ratings do not allow.)
All of this is to say: It still feels special to watch a movie in which a woman's orgasm is given narrative primacy. Why is why 1996's Fear, inarguably a Very Bad Movie, is also inarguably a Very Perfect Movie in one respect: that roller coaster sex scene. Reese Witherspoon's breathy sighs! Mark Wahlberg's smug smile! The very thoughtful use of The Sundays' cover of the Rolling Stones' "Wild Horses" (three years before Buffy the Vampire Slayer used the song in season three episode "The Prom")! Those diffused neon carnival lights, and that extremely on-the-nose plummet down the coaster track, and director James Foley's return, over and over again, to Witherspoon's and Wahlberg's fingers entwined together under her miniskirt. "I definitely never felt it before," Witherspoon's Nicole says afterward to her friend Gary (Todd Caldecott), who Wahlberg's David will eventually kill in a fit of explosive, unhinged jealousy. I'll have what she's having, except for, you know, the whole lying-and-murder-and-cheating-and-home-invasion thing. One orgasm, please!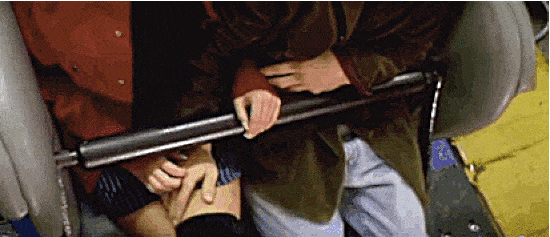 Fear hit theaters in 1996, at a time when Hollywood was committed to the sexy thriller, and the genre itself was committed to inadvertent campiness. There was Kathryn Bigelow's 1990 film Blue Steel, in which Jamie Lee Curtis's cop protagonist Megan Turner chases a serial killer she's actually unknowingly dating, the Gordon Gekko type Eugene Hunt (Ron Silver). There was Paul Verhoeven's Basic Instinct, and the Wachowskis's 1996 directorial debut, the neo-noir Bound. And there was a mini-trend, too, in which female teen protagonists experienced their sexual awakening and became unrecognizable either to themselves or others around them. Katt Shea's Poison Ivy, with Drew Barrymore as a low-brow young woman trying to ingratiate herself with Sara Gilbert's wealthy family; Alan Shapiro's The Crush, with Alicia Silverstone in her feature film debut as a Lolita-like teen obsessed with her neighbor; and John McNaughton's Wild Things starring Neve Campbell and Denise Richards, which Roger Ebert so accurately described as "lurid trash."
Foley's Fear, despite also centering a teen girl, is practically the inverse of Poison Ivy, The Crush, and Wild Things, in which duplicitous, lecherous, and lewd young women were the focus. Instead, you can't get more all-American, naïve, or virginal than Witherspoon as 16-year-old Nicole Walker, a character who Foley and screenwriter Christopher Crowe sexualize, but never patronize. We see Nicole in steamy showers inside her family's privately guarded wood-and-stone mansion, and we see her underwear peeking out from underneath too-short minis, and we see her in a frilly floral dress complete with white bobby socks and patent-leather Mary Janes. Nicole is fully in charge of how she presents herself, though, refusing to acquiesce to either her father Steven's (William Petersen) babying or her stepmother Laura's (Amy Brenneman) shaming, and also not entirely willing to go full bad girl like best friend Margo (Alyssa Milano, all midriff). (In Nicole's bursts of spiky directness, we see the actress Witherspoon would become; a defiant, leg-askew stance seems like an early version of Madeline Mackenzie's sarcastic shrug in Big Little Lies.) Nicole is sometimes tip-toeing toward adulthood, sometimes sprinting toward it, and the latter method picks up steam when she meets the soft-spoken, hunky David (Wahlberg), who can fill out a black thermal but who also asks Nicole about her feelings. He doesn't seem quite real, and of course, he isn't.
Where is the camp in all this? In her seminal 1964 essay, "Notes on 'Camp,'" writer and filmmaker Susan Sontag described "the essence of Camp" as "its love of the unnatural: of artifice and exaggeration … To perceive Camp in objects and persons is to understand Being-as-Playing-a-Role. It is the farthest extension, in sensibility, of the metaphor of life as theater." To view Fear through a camp lens, then, is to pinpoint instances where character behaviors are pointedly performative, and where an emphasis on inflated style overtakes narrative particulars. Which is so goddamn often! Crowe's script literally has David say that Nicole is the one who seems too good to be true, and the essential quality here is not just the fact that David is lying, but how he lies. How Wahlberg's voice goes an octave or so higher while dropping into a whisper; how his smile always seems a little bit off; how he befriends Nicole's little brother and her dog and her disapproving stepmother, all in one fell swoop; how he sleeps under a self-made shrine of Nicole, with a picture of her face taped over a portrait of the Virgin Mary; how he beats his fist to his chest in a scene that's been widely mimicked in a variety of subsequent pop culture, most hilariously in the sitcom It's Always Sunny in Philadelphia.
Conversely, there's camp in Petersen's dad character, too. He practically drools over teenage Margo's ass when she bends over, wordlessly admitting to David that all his money and prestige haven't wiped away an inherent male skeeziness. His best threat during a fight with David involves ripped-off testicles stuffed into mouths. How passe. Stephen's attempts at masculine posturing are so amateurish as to be embarrassing, and yet he and David serve as two poles of influence for Nicole, with her stuck in the middle between their crossed arms and clenched jaws.
Which is again why that roller-coaster scene is so important: It's the only moment in Fear that is purely about Nicole, what she wants, and what her desire transforms within her. Campiness falls away as Foley presents this carnival date like a gauzy, edgy-meets-romantic dream. "Wild Horses" starts to play, David and Nicole are unabashedly making out, and when they climb onto the ride together and David's hand ends up between her legs, Nicole holds it there. She takes a big gulp of air, closes her eyes, and mimics the action of the roller coaster—up and up and up until her whole body is gyrating, she throws her head back, and the car plummets downward. With her eyes closed, Nicole misses David's reaction (his licked lips, his slight squint), and in that way, the film rejects any reading of her sexual gratification as anything but genuine. David and Stephen are pantomiming versions of "the good boyfriend" and "the good dad" in fighting over her, but Nicole is never anything but herself, and her satisfaction is pure and without pretense.
As Sontag wrote, "intending to be campy is always harmful," and the reason Fear is still a perfectly watchable bad movie 25 years later is thanks to the appreciable contrast between the sincerity of that roller coaster scene and the unintentional absurdity of so much else. The brief glimpse we see of David's self-administered "NICOLE 4 EVA" tattoo on those famed Wahlberg abs, or his screaming delivery of "Let me in the fucking house!" into the Walkers' front-door peephole. Nicole stabbing David in the back with the peace pipe he won for her at the carnival after their roller coaster rendezvous (symbolism!), and Stephen defying all rules of physics and gravity to throw David hundreds of feet out of Nicole's bedroom window to land on a rock formation below. Fear envelops its goofy elements with utter seriousness, and that makes it a camp delight; Fear gives primacy to a young woman's sexual awakening, and that makes it a pleasure, no guilt involved. 
"Fear" is currently streaming on HBO Max.