With the passing of Stuart Gordon this past March, cinema lost one of its great provocateurs. An agitator and enemy of good taste from the start of his career in the Chicago theater scene—where, during his 1968 production of The Game Show, he would lock audiences in the theater until they literally rioted—Gordon proudly carried what writer Michael Doyle (author of the forthcoming Stuart Gordon: Interviews) describes as "an unflinching and transgressive spirit" with him into filmmaking.
Best known for his deliriously gruesome horror output (particularly his Lovecraft cycle: Re-Animator, From Beyond, Castle Freak, Dagon), as well as handful of fun sci-fi adventures (Robot Jox, Fortress, Space Truckers), Gordon's final run as a feature director saw him wander into less easily categorizable territory with a trio of crime films—sometimes referred to as the American Trilogy—that straddle the line between horror, noir, and the absolute pitch blackest-of-black comedy.
Even at the height of his success, Gordon remained a cult figure, so this period of his career tends to get overlooked by gore hounds and genre aficionados (to say nothing of square audiences), even though the films themselves are entirely of a piece with his more notorious efforts, featuring some of the most disturbing and stomach churningly visceral imagery and ideas found throughout his filmography. Considering said filmography include a severed zombie head attempting to perform cunnilingus, interdimensional parasites devouring a man down to the bone, and a living victim having his face skinned off in one go, that's saying something.
The first, and least seen, of this thematic trilogy was 2003's King of the Ants. Adapted by Charlie Higson from his 1992 novel of the same name, the film is a horrifying descent to hell and back again, about a young house painter (Chris McKenna) who falls in with a crew of crooked real estate developers (a collection of wonderful character actors including George Wendt, Daniel Baldwin, Vernon Wells, and Lionel Mark Smith) and gets roped into committing a murder-for-hire.
King of the Ants was brought to Gordon by frequent collaborator Wendt (a prosthetic of the actor's severed head has been used in no less than three different projects). Although a more grounded story than his other work—it features some nightmarish hallucinations, but nothing supernatural or technologically fanciful—its themes of grueling physical, psychological, and spiritual transformation spoke to him.
The darkest and meanest of his films, King of the Ants contains a second act so brutal, in which we witness a prolonged process of systematic dehumanization, as to makes the glut of 'torture porn' movies of the following years pale in comparison. Combined with some truly hellish bits of Clive Barker-inspired surrealism (including probably the most disgusting creature design/effect in Gordon's entire oeuvre), a cheap but appropriately grimy aesthetic (this was the first feature produced by indie schlockmeisters The Asylum), and an uber-nihilistic ending, it may also be his most memorable film, in that you are never likely to forget it. True to its namesake, it will burrow deep into the recesses of your psyche.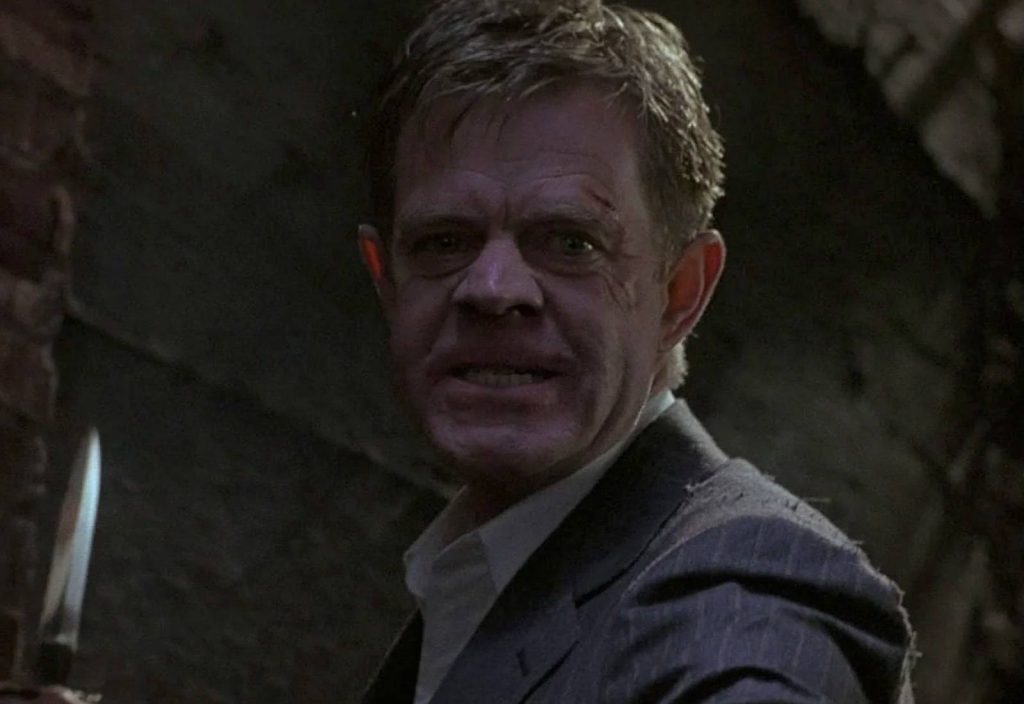 Gordon returned two years later with Edmond, an expanded adaptation of David Mamet's 1982 one-act play, starring Mamet regular William H. Macy as a spiritually unmoored businessman who, following a portentous fortune telling, leaves his wife and home and embarks upon an increasingly dangerous journey of self-discovery through New York's underground flesh market.
Like Gordon, Mamet got his start in Chicago theater—in fact, Gordon staged the first production of his breakthrough play Sexual Perversity in Chicago in 1974. Edmond thus offered him the chance to return to his roots while keeping entirely in line with his long running obsession over monstrous transformation and warped transfiguration.
Although outwardly less focused on physical brutality than his other films (though it's not entirely lacking for blood and viscera), Edmond may actually be his most violent film—it's just that the majority of violence comes by way of language, particularly the deployment of racial, sexual and misogynistic invective. As such, it is also his most overtly political film, an unforgiving (but not unempathetic) examination of the white male power fantasy at its most cruel and craven.
It's these latter qualities that likely keep Edmond from being as favored among a certain demographic as similar psycho-thrillers about the white man's burden (such as Taxi Driver, Falling Down or, god help us, Joker), since there's no way to mistake its central angry loner for a misbegotten hero or role model. When I caught Edmond during its initial theatrical run, the only other person in attendance was a middle-aged white guy who cackled loudly at every line of racist/homophobic/sexist dialog and scene of violence, only to boo the film during its shocking—but surprisingly tender—ending, in which the archetype of the 'good man pushed too far' is utterly broken down and ressembled into…something else.
This isn't to take away from the Gordon's penchant for humor, as Edmond is legitimately funny (Macy's constant haggling with bored sex workers and nightowl hustlers over verbal fine print plays like a cross between Taxi Driver and Curb Your Enthusiasm). The same can be said for King of the Ants, although the laughs there are fewer and farther between.
Gordon would double down on this twisted comedic sensibility, while also returning full force to the genre of body horror, with his next feature, 2007's Stuck. Inspired by a very not funny true story, the film stars Mena Suvari as an overworked nursing home caregiver who strikes a homeless man (Stephen Rae) with her car on her way home, embedding his torso in the windshield. Rather than seek out help, she hides her car and victim—horribly wounded, but alive—while figuring out how to dispose of them both.
Like the two films that preceded it, Stuck is a frightening rumination on the banality of evil, one that shows the ease with which an average person turns into a criminal and monster. In all three, the atrocity on display is spurred on and abetted by economic desperation. This reflection of the cutthroat capitalist instinct and the way they each anticipate the anxieiteis of the coming recession, combined with their more overt political analogues—torture in  King of Ants; white middle class resentment in Edmond; and governmental indifference (as well as an immigration subplot) in Stuck—make them among the best cinematic representations and most ferocious condemnations of the barbarous Bush era.
It is this dimension that really makes Gordon stand out among his peers. As Doyle notes, "while several of [his] contemporaries either softened, reduced their directorial output, or abandoned the horror genre altogether, he was still producing highly provocative and original works. He never lost the desire to create agitating and thoughtful movies that struck painful nerves."
And strike them he did, right up to the end.
Although Gordon continued directing for television and stage throughout the next several years, Stuck would be his last final feature. While it's disappointing that he was unable to get any of his later films past the planning stage—such as House of the Re-Animator, which would have seen the franchise move into the White House—it's also hard to think of a more fitting swan song for a transgressor of his talents. Few filmmakers have been lucky enough to out go out with as strong, disturbing, and politically provocative a run of films as Stuart Gordan's American Trilogy. Fewer still would have even tried.