It is slightly cynical (but not necessarily inaccurate) to describe Disney's business strategy for the last decade or so as built, almost entirely, on nostalgia. The "live-action," sometimes even shot-for-shot, remakes of animated classics like The Lion King, Beauty and the Beast, Aladdin, and Cinderella. Series announcements on the streaming service Disney+ that nearly universally tie into existing franchises: The Mandalorian, a slew of Marvel Cinematic Universe offerings, a return to the world of the Mighty Ducks. There is money to be made in familiarity, and Disney has excelled at sprawling out established properties rather than producing new and original ones.
It's strange, then, to revisit 1985's Return to Oz, the unofficial sequel to The Wizard of Oz that Disney released 31 years after buying the rights to L. Frank Baum's other novels about the land of Oz. Disney would return to this world once more with 2013's Oz the Great and Powerful, an unofficial prequel to MGM's 1939 classic, which exhibited all the glossy and gleaming qualities of a present-day live-action Disney production. Director Sam Raimi corralled a cast of recognizable stars, like Mila Kunis, James Franco, Rachel Weisz, and Michelle Williams; the 3D format helped add a couple of dollars to each ticket sale; Disney regular Danny Elfman did the score. There was a safeness to it, and a forgettability, and Oz the Great and Powerful makes sense as a Disney production.
Return to Oz, to put it frankly, does not. Surprisingly somber and often unnerving, Return to Oz rejects the "Over the Rainbow" optimism of its predecessor. There are no songs here, no characters with secret desires for wisdom or courage or love, no desire to return home. Instead, director Walter Murch and screenwriter Gill Dennis focus on the odd possibilities of Oz, on the power struggles that might break out between its native occupants, and on the way the world could develop without the interference of meddling Kansans. "There's no place like home," one of the most memorable lines from the Judy Garland version, is uttered only once by a villain with murderous intent—one could never mistake Return to Oz for an homage.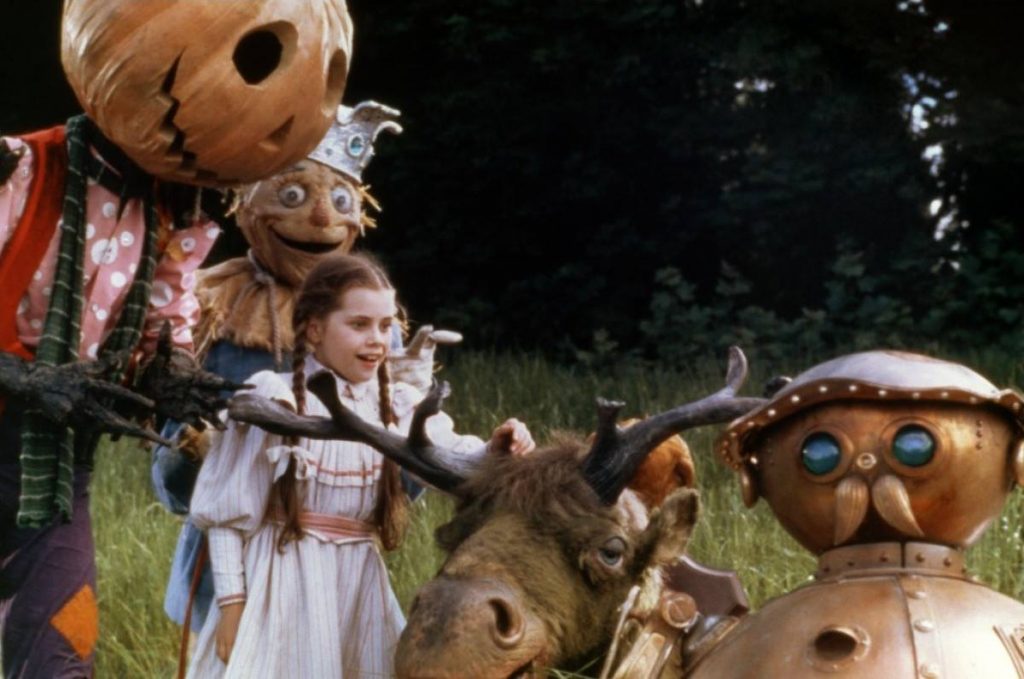 Return to Oz was Murch's lone feature directorial credit after a long, heralded career in film editing and sound mixing, often with Francis Ford Coppola. Murch was nominated for Academy Awards numerous times, including as a Best Sound and Best Film Editing double nominee at the 52nd ceremony in 1980, where he won in the former category for Apocalypse Now. But the negative response to Return to Oz upon its release was practically universal. Gene Siskel wrote in the Chicago Tribune, "Rarely has a movie been created that seems so pointed to frustrate the reasonable expectations of the audience," while Variety's review complained of an "absence of narrative drive." Commercially, it underperformed, bringing in only $11 million domestically on a budget of $28 million. But in the years since, as generations have moved further away from the sincerity (which some may call corniness) of The Wizard of Oz, Return to Oz has re-established itself as a cult classic.
The production design by Norman Reynolds (coming off the successes of The Empire Strikes Back, Raiders of the Lost Ark, and Return of the Jedi) and Claymation work of Will Vinton (which was nominated for an Academy Award) collaboratively build an enthrallingly bleak version of Oz. There are nods throughout to J. R. R. Tolkien's Middle Earth. A wide-eyed Fairuza Balk is charmingly sincere in her first film role. The villains are legitimately dangerous, and surely gave more than one '80s kid an array of bad dreams. In Kansas, a doctor threatens electroshock therapy on children, and a nurse oversees a house full of damaged victims. In Oz, a gang of murderous henchmen are literally hell on wheels; a witch has a collection of detachable heads she can pop on and off at will; a nefarious king is made out of ever-shifting, ever-growing rock. Taken altogether, the experience of watching Return to Oz, with its myriad nightmarish offerings, almost feels like thumbing one's nose at the prudish Disney of today.
A mashing up of Baum's novels, in particular 1904's The Marvelous Land of Oz and 1907's Ozma of Oz, Return to Oz centers the familiar Dorothy (Balk, noticeably a few years younger than Garland's teenage version of the character), returned to Kansas after her adventures in Oz. Six months after the tornado, Dorothy is struggling to sleep and frustrated that Aunt Em (Piper Laurie) and Uncle Henry (Matt Clark) don't take her stories about Oz seriously; meanwhile, the adults are shouldering their own burdens, mainly a new mortgage since their house was destroyed. Although money is tight, a desperate Aunt Em signs up Dorothy for electroshock therapy, which Dr. J. B. Worley (Nicol Williamson) and Nurse Wilson (Jean Marsh) promise will erase what they insist are Dorothy's fantasies of the fictional Oz.
There is something clearly ominous about this place—Nurse Wilson's black satin gown with its puffed shoulders, so reminiscent of the Wicked Witches' outfits in The Wizard of Oz; the moans and groans coming from various rooms deep in the building—and when Aunt Em leaves, Dorothy is alone. Or is she? Another girl, blonde and about Dorothy's age, appears in her locked room and hands her a pumpkin. Later on, when Dorothy is strapped to a gurney and about to receive her first shock therapy session, the girl arrives to free her. They jump together into a river flowing behind the institution, escaping from Nurse Wilson's clutches. The next morning, when Dorothy wakes up, the girl is gone—but Dorothy herself is back in Oz.
How unrecognizable Oz is now, though, drastically different from Dorothy's memories. The beach she washes up on is dotted with boulders, who metamorphosize into grimacing or smirking faces that surreptitiously watch Dorothy. The Yellow Brick Road, so richly colored and iconic, is torn up and faded. And the Emerald City is destroyed, littered with debris and people turned to stone—including Dorothy's friends the Cowardly Lion and the Tin Man. Where is the Scarecrow, who took over ruling Oz when Dorothy left? What happened here? With the talking chicken Billina (Denise Bryer) by her side, Dorothy sets off to find out.
As Dorothy collects a new crew of companions, including the talking automaton Tik-Tok (Sean Barrett); the self-described Jack Pumpkinhead (Brian Henson), cited as an inspiration for Jack Skellington in The Nightmare Before Christmas; and a mounted moose's head named Mr. Gump (Lyle Conway), Dorothy begins to piece it together. And each new revelation unveils another horrifying villain for Dorothy to face. Emerald City is overrun by Wheelers, hunched-over, creepily tall men with wheels for hands and feet, bedecked in garish masks and jester's outfits. They answer to the witch Mombi, who can remove her head and replace it with another beautiful one from her collection of dozens; those heads, which watch Dorothy together and scream together when she resists them, would seem right at home in a giallo horror like Suspiria. And King Nome, a shape-shifting figure made out of rock who lives underground and can control the landscape of Oz, sends Dorothy toppling down to his lair, past mine shafts and crumbling sedimentary layers and gigantic formations of emerald. When he cajoles Dorothy into a guessing game that could trap her in Oz forever, he refuses to budge on any rules: "It sounds fair to me, and that, I think, is all that matters," King Nome insists, and his relentlessness adds to Dorothy's fear, and ours.
To its credit, Return to Oz never tries to mimic The Wizard of Oz directly, but it recreates that film's patterns for its own purposes. The same actors portray numerous characters; certain details from Kansas are mimicked in Oz, and vice versa. Balk plays Dorothy less as a character desperate to go home, as Garland did, and more as someone who knows she has been wronged but remains hopeful in spite of it. Balk's Dorothy is aware she has been misunderstood by her aunt and uncle and underestimated by Mombi and King Nome, but her friends are in trouble, and she won't give up. Even when the film loses some of its narrative momentum, in particular when that game King Nome forces Dorothy into drags on a bit too long, Balk's performance doesn't waver in that steadfastness. And her resilience, then, becomes a counter to every nightmarish image Murch presents: the Wheelers advancing upon Dorothy, their bent-over silhouettes hulking and incomprehensible; Mombi's headless body staggering out of bed and chasing Dorothy; King Nome's mouth of jagged rock teeth, opening wider and wider so he can drop Dorothy's friends inside of it. "It's just my imagination," Aunt Em had forced Dorothy to repeat whenever she talked about Oz, but these scenes are not the riotous Technicolor fantasies of The Wizard of Oz. These are alternately melancholy and unsettling, and they speak to an Oz that is haunting Dorothy, not beguiling her.
"Dorothy Gale, you're all that's left," King Nome says mockingly to Dorothy during their game, but what Return to Oz dares to do is present a hero who, in spite of such wondrous bizarreness and focused malice, cares more about her friends than herself. Even as the unofficial sequel swaps out a tornado for a lightning storm, flying monkeys for rock gargoyles, and a scheming wizard for an underhanded king, Dorothy's tenaciousness and selflessness are the common denominators between Return to Oz and its predecessor. It's that shared quality that makes Return to Oz feel more genuine than Disney's later Baum adaptation Oz the Great and Powerful, or a fair amount of what else the studio has produced lately.
"Return to Oz" is streaming on Disney+.