Elizabeth Bennett (Kiera Knightley) and Mr. Darcy (Matthew Macfadyen) hate each other immediately. Their first encounters are hostile, ridden with passive aggressiveness that you can feel in your bones like cold humid air. Less than a half hour into Pride and Prejudice, which came out fifteen years ago today, Elizabeth Bennett gets into a carriage. Mr. Darcy reluctantly — but politely — takes Elizabeth's hand as she climbs the step. The camera zooms in on Elizabeth's face. She is alarmed, slightly aroused, and confused. Then the frame shifts to Mr. Darcy's hands as he walks away from the carriage without looking back. Mr. Darcy closes his fingers into his palms, then extends them.
This is now known as the "hand flex," a titillating moment in cinema that barely lasts a second of screen time, but has inspired a cult-like following and inspired a new generation of period filmmaking. The hand flex, more than anything in Joe Wright's feature film debut, encapsulates how different it is from any other Pride and Prejudice adaptation, any other Jane Austen adaptation, and any other period piece that came before it – because of its emphasis of quiet human moments, rather than the spectacle of a period drama. 
Many such films of the 1990s (thanks, in no small part, to the rise of Miramax) were good, but derivative. No matter who directed, and no matter how powerful the performances, they have a sameness to them, following the same formulas and tropes (muted colors, convoluted dialogue, and heavy narration) to move the story forward. In trying so hard to be faithful to source material, time period, and/or the genre itself, even the best and most eccentric of these films – like Martin Scorsese's The Age of Innocence, Ang Lee's Sense & Sensibility, or Patricia Rozema's Mansfield Park – still feel like they exist in the same universe as every other period drama, and each other's. They focus so much on the differences between the time period of the film and the present that they lack the resonance that makes films like 2005's Pride and Prejudice adaptation so personal.
Now, period pieces across film and television are modern and artistic, more experimental in their look and feel, and more willing to sacrifice historical accuracy to tell an original version of a familiar story. TV shows like The Great and Dickinson and films like The Favourite and Greta Gerwig's Little Women experiment with tone, break the fourth wall, feature hip hop and modern slang, use slapstick comedy, and have overtly modern themes or characters.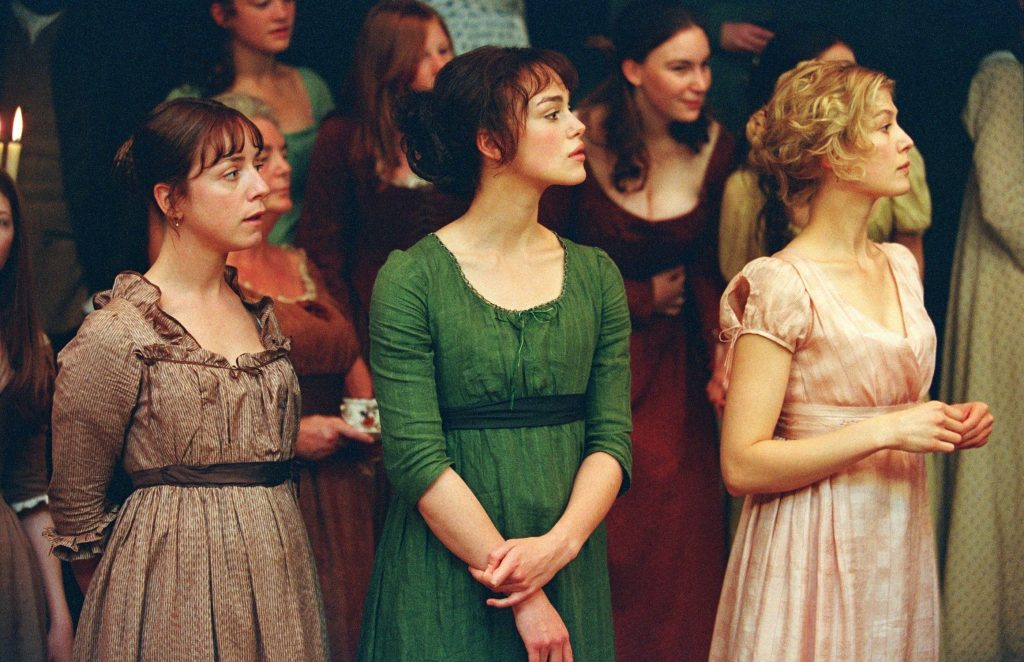 Joe Wright had a lot working against him when he was hired in 2004 to direct a new adaptation of Pride and Prejudice. The 1995 BBC miniseries of the same name had been a massive success: it was faithful to Jane Austen's novel, turned Colin Firth into a movie star, and was universally beloved by audiences and critics. Wright had also never directed a movie before, and had never worked on a period piece. But he saw these challenges as an opportunity. Rather than set the film in the early 19th century like every other adaptation, his Pride is set in the late 18th century, giving it a vastly different (and strangely more modern) look, given the more relaxed fashions at the time. (Wright also correctly hated empire waist gowns, and did not want the characters in his movie to wear them.)
Instead of trying to make the most loyal adaptation of Pride and Prejudice, Wright simply attempted to make his own version of Pride and Prejudice: a story about two people who think they hate each other (but are actually just very horny for each other), as well as a story about money, family and finding your place in a world that's working against you. Wright and screenwriter Deborah Moggach (with a little help from Austen expert Emma Thompson) cut unnecessary storylines and characters to focus on Elizabeth and Mr. Darcy's relationship, and tweaked Austen's poetic, serpentine dialogue to make it fresh.
Wright took his film seriously, treating it as a work of cinematic art despite the fact that its target audience would be overwhelmingly female, a demographic that even today — but particularly at the time — was looked down upon and condescended to, especially by male filmmakers. The camera is almost always moving along with its buoyant piano score, making moments of stillness (like Mr. Darcy's first proposal in the rain) more poignant. The dialogue is sharp and quick. The staging of scenes is thoughtful and complicated, and almost every shot could be a painting from the Romantic era. The color is heavily saturated, a significant contrast compared to the heavily muted period films before it. In the film's first act, the color story is darker: it's rainy and cloudy, the foliage is brown, and characters wear darker colors, representing the hatred between Elizabeth and Mr. Darcy. But the film gets brighter and brighter as it goes: as Elizabeth's fondness for Mr. Darcy grows, the skies are clear and blue, rays of light burst through windows, the English countryside is swallowed in green landscape, and the characters' wardrobe, particularly Elizabeth's, gets brighter and lighter, too.
Most importantly, Wright's Pride and Prejudice enhances Elizabeth Bennett, and this film alone proves he's one of the few male directors working today who understands women, or at least makes an effort to do so. Keria Knightley's Elizabeth (a role that cemented her status as a period drama queen) is more fiesty and rebellious than her literary counterpart, a feminist pushing back against what society expects of her. And Matthew Macfadyen's Mr. Darcy is a lonely man who feels as empty inside as his massive estate. Wright also made Mr. Darcy's proposals more romantic than in the book: the first takes place under a sprawling gazebo in the pouring rain, the second in a field on a misty morning. By making Mr. Darcy's courtship more romantic, he's more fully realized, and Elizabeth's decision despite her fierce independence is more convincing.
Another notable deviation from Austen's novel is Elizabeth's relationship with her father, Mr. Bennett (played by Donald Sutherland, in one of the best roles of his career). He is a no-nonsense but loving and attentive father who has a strong bond with his rebel daughter because they are the same in their reluctance to follow societal standards, their disdain for being anything but themselves. Their relationship develops from a brief exchange of horror during a dinner with the goofy Mr. Collins (Tom Hollander), who intends to marry Elizabeth, to the striking scene at the end of the film when Elizabeth tells her father about the good deeds Mr. Darcy has done for the Bennett family and that she is in love with him. 
The groundbreaking shift in the period genre owes a lot to Joe Wright's Pride and Prejudice. Other films such as the Shakespeare-inspired teen rom coms like Clueless and 10 Things I Hate About You as well as Baz Luhrman's Romeo + Juliet — which sticks to the original text against a neon backdrop and Leonardo DiCaprio in a Hawaiian shirt — certainly paved the way for more inventive period dramas, but not as successfully. Sofia Coppola's Marie Antoinette, with a soundtrack including The Cure and The Strokes, came out only a year later, has had just as much of an influence on the evolution of period pieces (despite being less critically acclaimed at the time), and has a similar cult following. Ultimately, Pride and Prejudice is a vibrant and fun, faithful but not completely loyal adaptation that is critical of both the past and current expectations, limitations, and standards for women. It looks at its characters from a modern lens and in doing so, allows more opportunity for the audience to understand them.
"Pride and Prejudice" is currently streaming on Netflix.