Of the many talented minds at Pixar, Pete Docter has gained a reputation as the studio's headiest, most conceptually ambitious creative force. He's the guy behind Up's heartbreaking opening sequence and Inside Out's innovative, moving exploration of human emotion. It may not come as a surprise that Docter is also a Christian – theologically-minded themes of inclusion, empathy, and existential meaning play an important role in his films.
Soul, which Docter co-wrote and co-directed with One Night in Miami playwright Kemp Powers, pushes Pixar's boundaries further than any of the studio's other films to date, playing with big ideas and visual styles, as well as creating its first Black protagonist. It represents a step away from the kid-friendly fare that's defined Pixar's output so far, and a move toward more intellectually-minded experimentation.
Joe Gardner (Jamie Foxx) is a middle school band teacher with a lifelong desire to become a famous jazz musician. On the same day he's given the opportunity to play alongside one of his heroes, Joe falls through a manhole and winds up in a coma. His soul is transferred to The Great Beyond, portrayed as a long, A Matter of Life and Death-style escalator ending in a giant portal of light. Joe is determined to get back to his career-making gig and fulfill his destiny, a journey which brings him in contact with 22 (Tina Fey), an unborn soul who stubbornly refuses to enter an Earthly body. Joe returns to Earth with help from a mystic named Moonwind (Graham Norton), but complications arise when 22 tags along.
As with Inside Out, Docter creates distinct worlds in Soul, defined by specific visual styles. This time, the animation goes even further, establishing a visually diverse, experimental tone. Joe's life on Earth has a lightly stylized but otherwise realistic look, with sharpness and texture that feel almost real. In The Great Beyond, Joe, 22 and the other souls appear soft and bulbous. This contrasts with The Great Beyond's counselors, the Jerrys (Richard Ayoade, Alice Braga, Wes Studi and others) and dogged bureaucrat Terry (Rachel House), represented as tangled two-dimensional line drawings. The visuals are accompanied by different musical styles. On Earth, Joe's world is filled with Jon Batiste jazz arrangements. The Great Beyond features a playful, ethereal score by Trent Reznor and Atticus Ross.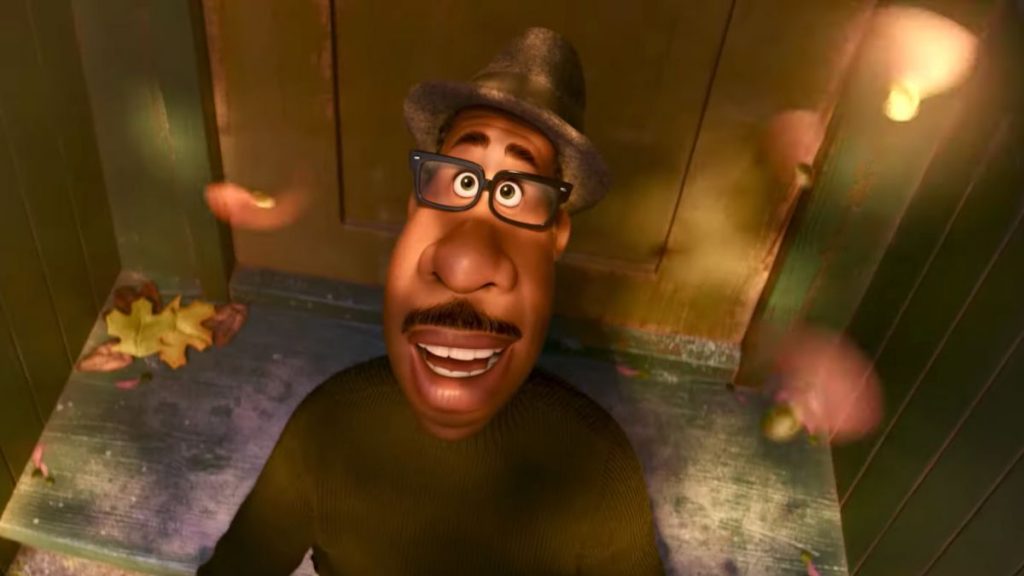 Docter, Powers, and co-writer Mike Jones play with bigger ideas, too, contending with concepts of purpose and presence. This brings about some powerful revelations that are specifically adult-oriented; kids likely won't connect strongly to the idea of rediscovering meaning and wonder, or the compromises that come with maturity. It also creates issues with Joe and 22's dual arcs. Both characters experience important transformations, and their individual journeys contain similar themes and profound ideas. The lessons they learn, however, and the separate places those lessons take them, become convoluted, and make the film's overall message more difficult to discern.
Despite complications that muddy the plot, Soul represents a leap forward for Pixar that deserves consideration among the studio's best work. It's not as nostalgia-inflected as Toy Story, or as fuzzy as Monsters, Inc., but it's significantly more mature. It's also a life-affirming piece of work with valuable things to say about the differences between calling and vocation. Considering the direction many other Disney properties are taking right now – sticking with what's safe and what sells – Soul feels like a defiant anomaly, an actual risk that demands to be taken seriously. It may not be perfect, but it suggests a creative future for Pixar that hopefully heralds more fascinating results.
A-
"Soul" streams Christmas Day on Disney+.