Identical suburban homes all in a row of tidy green lawns and white picket fences. The perception of 1950s American culture is a society that does not embrace individuality, and decades of Leave It To Beaver reruns have done nothing to erase the image of immaculate housewives chained to their vacuum cleaners by a string of pearls, or anonymous men in grey suits working soulless 9-5 office jobs and trying to forget that they're dying inside. But while there are certainly 1950s films that genuinely perpetuate the narrative of a blissful conformity, a surprising amount of media from this period reflects a fear and rejection of the status quo. Across several genres, from westerns to science fiction to traditional dramas, filmmakers actively question a culture that, through mass media and commercialism, has lost its sense of individuality. The reevaluation of the supposed "good old days" did not require hindsight: 1950s cinema was continually grappling with the dark side of conformity.
Science fiction and horror films of the 1950s are dripping with anxiety surrounding the unknowable future, and what constantly evolving technology might bring. The atomic era inspired fear as well as curiosity, and the Cold War loomed ominously over the decade. A film like Invasion of the Body Snatchers can be framed as a response to the perceived Communist threat in the United States: an insidious, menacing "alien" entity that could infiltrate American society undetected. The idea that a mysterious foreign presence could be lurking amidst an ordinary community, physically indistinguishable from its neighbors, was a salient one for 1950s audiences. But at the heart of Invasion of the Body Snatchers is an existential dread of being stripped of your personality, your free will, your very identity — personhood sacrificed at the altar of sameness. (There's also a sly commentary on the monotonous nature of the suburbs: if a monolithic Borg-like entity suddenly replaced all of your suburbanite neighbors, how could you even tell?) The obliteration of the self in favor of absolute conformity betrays a more deep-seated anxiety that lurks beneath the surface, even, paradoxically, as Americans grew more insular and suspicious of non-conformists.
We expect horror and science fiction to explore what scares us as a society, so the fact that these genres would highlight 1950s-era concerns about the growing demands on individuals to look and think and act alike is perhaps unsurprising. But the fact that these themes infiltrate more traditional genres is telling. Westerns are arguably amongst the most conservative and staid films from the 1950s: their icon, John Wayne, is the living personification of red-blooded (and, to put a finer point on it, Republican) American masculinity. Despite this, his characters regularly espouse a rugged individualism, unwilling to society's accepted norms.
In The Searchers, he is a rootless wanderer. Even when presented with the opportunity to embrace a family life and the comforts of domesticity, he refuses to sacrifice his individualism. The last shot of the film famously frames him in a doorway, the entrance to his potential salvation, only for him to turn and walk away from the homestead. We are perhaps supposed to question his decision, but that doesn't impact how we view his character: 1950s audiences were trained to see John Wayne as a hero, thus his dogged refusal to embrace society becomes heroic. Westerns in general tend to thrive at times when viewers are especially longing for the past. In the 1950s, that surely involved the simplicity of life before the atomic bomb and the Russian satellite Sputnik floating ominously overhead. But there's also undeniably an element of romanticizing a past with fewer social pressures emphasizing normality as a benchmark for success, where people could follow their own individual destinies westward from the cities that smothered them.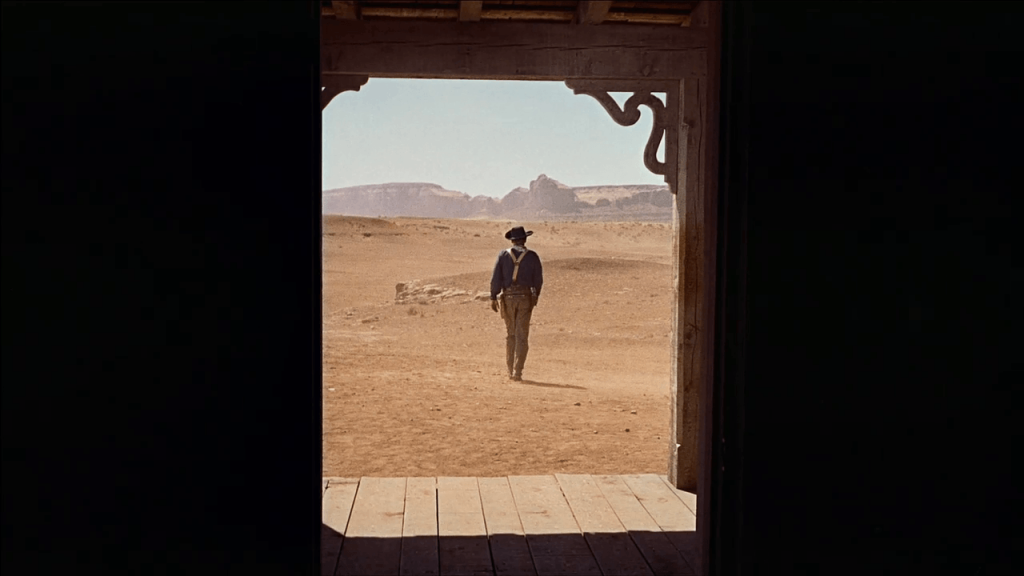 Traditional dramas are the most straightforward and uncomplicated in their critical analysis of the 1950s: you don't have to dig too deeply to understand what they're questioning. They also have the advantage of being best poised to depict the realities of modern society, unconstrained by the necessity of a period setting or fantastical story elements. Beyond the sea of light and fluffy films bursting with optimism and good will towards American culture, many rejected the conventions and institutions of the status quo, and called into question whether this so-called golden age was everything it claimed to be. Some seemed to argue that the issue was not so much what was wrong with plain, ordinary society, but rather that there was something special, almost glorious, about marching the beat of your own drummer. Harvey, for example, is the story of a man (James Stewart) whose best friend is a large, invisible, rabbit-like creature. His well-intentioned friends and relations attempt to have him committed, before realizing that his kind, generous (and yes, odd) spirit may not meet the exact standards of what they consider normal, but is far too valuable to be suppressed. The "goodness" of his character is more consequential to the story than the "badness" of his depressingly conventional relatives, which blunts its effectiveness as social commentary, but nonetheless provides a ringing endorsement of eccentricity over conformity for conformity's sake.
Others are more forthright in their criticism of societal institutions. Aimed at the growing (and increasingly financially independent, which was what the studios cared about most) generation of teenagers was a subgenre of films that captured a spirit of rebellion. These were kids who saw themselves as separate and distinct from their parents and grandparents, and were not eager to become part of a middle-class suburban monolith. The Wild One, starring Marlon Brando, showed a counterculture version of youth who spurned the very idea of authority. Rebel Without a Cause highlighted teenage disillusionment with institutions such as marriage, and how profoundly disappointed they were with the adults in their lives. When Jim, Judy, and Plato run away from home, they have lost all trust in traditional family units. Instead, they playact their own, with Jim and Judy as the parents and Plato as the child. Their parents have not met their needs, and the failure is framed as an indictment of society on a larger scale. They call into question one of the most iconic emblems of 1950s culture: the picture-perfect facade of the American nuclear family.
Likewise, The Man in the Gray Flannel Suit sets its sights on another member of the family unit: the father, and his role as provider. This responsibility forces him into the hotbed of conformity, the American workplace. Overt in its socio-political analysis, The Man in the Gray Flannel Suit is deeply critical of a high-pressure work environment that is devoid of any soul and forces its employees to fight for crumbs, dangling the prospect of the next big promotion like a carrot to ensure ultimate loyalty. Under pressure to provide an increasingly lavish lifestyle for his family, a WWII veteran takes on an office job that showcases the struggles of the white-color worker as he attempts to balance his job responsibilities with his home life; corporate structure infringing on the delicate ecosystem of the family. Its depiction of company men, previously regarded as the aspirational height of suburban success, as gray-faced, gray-suited Yes Men speaks loudly.
In a society that so highly values the masculine ideal, conformity is intrinsically linked with a pressure to adhere to traditional masculinity. But this is in itself a contradiction: men must make their own way in life and provide for themselves, but they must also conform to an increasingly rigid definition of maleness. Tea & Sympathy questions these unyielding demands placed on men, focusing on a high school student who is different from the other boys in every conceivable way. In a thinly veiled queer text, Tom faces constant pressure to act more "manly" from his classmates, his teachers, and his father. His interest in theater alongside his mannerisms, style of dress, and even his haircut are all openly mocked and scrutinized: for teenage boys and the men they grow into, there is no room for compromise when it comes to perceived threats to traditional masculinity.
Despite the legacy of the 1950s as a time of cookie-cutter monotony throughout America, films from the decade tell another story. Across genres, there is a surprisingly consistent sense of unease with the level of conformity expected. The American people of the 1950s were being pulled in a direction that would celebrate commercialism, mass-produced lifestyles, and an ominous equating of anything unconventional with anti-American sentiment. If the marketing of the time shows a society willing to sell its soul for ready-made pancake mix or a powder blue Buick, 1950s movies give us a glimpse into an individualistic culture subconsciously straining against the pressure to be like everyone else.