The turn of the 21st century was ruled by a particular kind of comedic heroine. Blond hair, a bubbly personality, and an exposed midriff were mandatory, and the brand of feminism espoused was primarily about sexual confidence and unfettered ambition. This was the era of Reese Witherspoon in Legally Blonde, with her fuchsia skirt suit and her realization that a perm was the key to her client's innocence. Of Piper Perabo in Coyote Ugly, with her low-rise leather pants and her dreams of hitting it big. Of Cameron Diaz in Charlie's Angels, with her martial arts training and those legs in her boys' cut Spider-Man underwear. There has always been a certain hegemony to the way we are expected to trust white women onscreen, and that assumption remained mostly unquestioned in the time of Elle Woods, Violet Sanford, and Natalie Cook.
To be sure, 2000's Bring It On (released 20 years ago this week) leans into the same tropes. The teen comedy, written by Jessica Bendinger and directed by Peyton Reed, centers white, bubbly, blonde Kirsten Dunst, just after her well-regarded turns in Sofia Coppola's gorgeous, meditative adaptation of The Virgin Suicides and the earnestly silly but commercial failure Dick. As high school senior Torrance Shipman, the captain of the national champion cheerleading team the Rancho Carne Toros, Dunst is a little bit Cher Horowitz and a little bit Buffy Summers. She lives in a gigantic house, with a manicured backyard that looks out on the sprawling hills of San Diego. She has a seemingly chaste relationship with her older boyfriend, whose kisses she gamely tolerates. She's hardworking and loyal, goofy and generous. And she is, thoroughly and undeniably, a beneficiary of white privilege, a young woman whose entire cheerleading career has been built off work stolen from Black teenagers on the wrong side of town. Bring It On is the story of Torrance's tenacity in weathering this betrayal, but it's a documentation of complicity and classism, too, and one of the few films of that moment to subtly interrogate the entitlement of its own protagonists.
From the opening scene of Bring It On (which has spawned five direct-to-video sequels), we're meant to see these young women as passionate and dedicated about cheering, aware and conscious of their rarified position within their sport and their high school, and brusque and honest about their own intragroup backstabbing. An arch cheer, eventually revealed as Torrance's nightmare, introduces nearly all the main characters and gives us a glimpse into Torrance's perspective of herself. Starting with the line "I'm sexy, I'm cute! I'm popular to boot!" is a bold move, but the cheer also makes room for detractors ("And many think I'm vile") and for the nastiness the girls often dip into ("Don't hate us 'cause we're beautiful, 'cause we don't like you either!"). These teenagers are as confident as they are standoffish (cupping their breasts in one moment; throwing up middle fingers in another), and the film's script is riddled with myriad insults either lobbed at the girls by outsiders, or between each other individually. Bitch, whore, slut, cow, and loser are in constant rotation, and the recurring use of slurs for gays and lesbians aren't far behind.
As Torrance's senior year at Rancho Carne High School begins, she takes over the group from the preceding captain, the tyrannical Big Red (Lindsay Sloane), who left mighty big shoes to fill. It is now Torrance's task to lead the Toros to another national cheerleading championship—a record sixth in a row. After years of teamwork, the team knows each other's strengths and weaknesses, but they've also grown complacent. When Torrance's suggestion that they practice a specific pyramid results in a season-ending injury for one of her teammates, the squad is forced to accept a new member: the punky, outspoken Missy (Eliza Dushku, rounding out her work in Buffy the Vampire Slayer and Jay and Silent Bob Strike Back with another bad-girl role). A transfer student from Los Angeles who wows the squad with her acrobatics but also insults them with her sneering description of the Toros as a "last resort" because the school lacks a gymnastics program, Missy makes immediate enemies with Torrance's primary antagonists, Courtney (Clare Kramer) and Whitney (Nicole Bilderback). And after she walks out of her first practice upon hearing Torrance lead the squad in a cheer set to DJ Kool's club anthem "Let Me Clear My Throat," she drops a bomb: Every cheer that Big Red taught the Toros was swiped from the East Compton Clovers, an inner-city LA squad. While the Clovers were pioneering new moves, pushing the boundaries of the sport, and incorporating the sounds and styles of Black American culture into their cheers, Big Red was copying it all and using it to lead the Toros to a series of accolades and TV appearances.
When we meet the Clovers, the imitative aspect of the Toros' cheers becomes clear. The disconnect between this squad of nearly entirely white girls riding the pony, popping and locking, and doing the whip to hip-hop classics is crystallized by Clovers captain Isis (Gabrielle Union), her arms raised upward in a gesture of authority and power. Initially shot from below, Isis looks regal and commanding (fitting, given her royal name) before easily launching into the cheers that seem so much smoother performed by the Clovers than by the Toros. Her team is cocky and aware of their own greatness, with the bold green, orange, and yellow color stories of their costumes and accessories matching their swagger. When Torrance and Missy try to speed-walk away from the East Compton High School auditorium after their realization of what Big Red did, Isis won't let them leave unnoticed. She's the captain this year, and she's resolute: "I know you didn't think a white girl made that shit up," is her scoffing response to Torrance's admission that she didn't know of Big Red's duplicity. Isis is aware of how she and her fellow Clovers are perceived by the world outside of Compton—especially by the type of people who are members of the yacht club in Torrance's hoity-toity neighborhood—and she's determined to prove them wrong. With one pithy observation, the Clovers describe the Toros' theft, and the privilege that protected them: "Putting blond hair on it and calling it something different."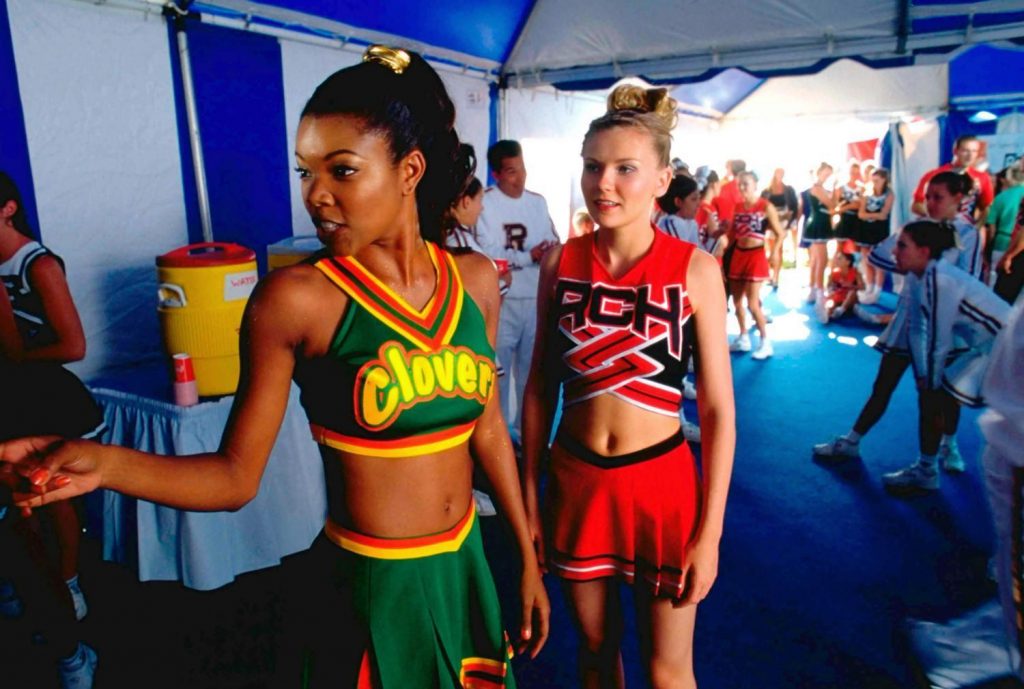 How to right this wrong? Bring It On charts Torrance's attempts to separate the Toros from the content they essentially stole, and the infighting and disgraces that arise from the squad now actually having to do their own work. Nearly everyone aside from Torrance and Missy wants to keep performing the stolen routine, convinced that their years of success (and the Clovers' race and socioeconomic status) will insulate them. When they're embarrassed by the Clovers attending a Toros football game and doing the same cheers more vivaciously and energetically, they decide to hire a professional choreographer. Another humiliation arrives at the regional championships, when they take the stage after the Clovers, who are exceptional, and another team who perform the exact same routine as the Toros—they had hired the "spirit fingers"-espousing Sparky Polastri (Ian Roberts), too. Exposed as the frauds that they are, the Toros must finally grapple with an even playing field against the Clovers, and with a realization that their squad's history, zip code, and rich parents can't protect them (at least this one time). When Torrance delivers a check to the Clovers to ensure they can afford attending the national finals, convinced that she's doing them an altruistic favor, she's aghast by Isis tearing up the "guilt money." All Isis wants from Torrance, she says, is that the Toros "bring it": "That way, when we beat you, we'll know it's because we're better." And, lo and behold, they do.
In hindsight, the broad strokes of Bring It On feel like a precursor to the conversations we're having more and more often now about the physical and emotional labor weathered by Black Americans everyday in a society built upon white supremacy. In its willingness to make its white protagonists realize their own villainy and complicity, Bring It On did what so many other movies of that time, with their deification of the white blonde hero, were unwilling to do. By the end of Bring It On, you respect Torrance for her insistence on fair play, but you're thrilled by what the Clovers have finally achieved: dominance on a stage long denied to them, the bucket of gold at the end of the rainbow they've been trying to find for years.
The Clovers' final routine is clearly the superior, their triumph is deserved, and their rattling of the ivory tower in which the Toros had so long dwelled is undeniably satisfying. Is that giving too much credit to a movie that also includes a scene where a male cheerleader brags about fingering a teammate through her Spankies? Perhaps. But put aside the typical teen-movie accoutrement of Bring It On—the cheating boyfriend; the cutely defiant new love interest (played charmingly by Jesse Bradford, all grown up from Hackers); the endless jokes about oral sex; the subplot involving a "spirit stick curse"; the very unnecessary car-washing scene, during which the majority-female cast walks around in bikinis—and at its core, the film is about the seductive nature of privilege and classism, and the ease with which so many retreat back to them. "It feels like first," Torrance says when the Toros receive second place at the nationals, but that's white fragility for you. The Clovers win at nationals in Bring It On, and in their victory, dared puncture the haze of white privilege that still permeates our culture both on and off the screen.