Some movies conjure up bittersweet recollections while emitting positive vibes. That's all part of the cinematic experience — relating to subject material but still allowing the deepest cuts to bleed, and immersing yourself in uncensored memories from a more naive time, all in the name of personal growth. In college, I distinctly remember my cinematic tastes changing after enrolling in "Film Appreciation," and one particular film — Ernst Lubitsch's Ninotchka — taught me important life lessons about comedic perspectives, adventure, and risk-taking.
For those not familiar with the "Lubitsch Touch" — an aesthetic quality that's been famously attributed to Ninotchka's director — it goes something like this: Suggestive jokes about high society types are funny, and not just for the sake of unleashing soul-crushing venom. By paying special attention to comedic timing, character framing, and mise-en-scène, Lubitsch enlivened his motion pictures by placing one joke on top of another. He zings the intellectual crowd with dressed-up dialogue, and then serves up a practical one-liner. Meaning, Lubitsch pleases both the faux intellectual and the drunk uncle.
However, Ninotchka doesn't quite have the accessible opening like so many of Lub's '40s classics. There's a primary Parisian setting (which is sexy), but there's also three awkward Russians telling jokes (which is inarguably not sexy). But here's the special thing about my guy Lubitsch: He assumes the audience will have patience (important for movie-watching) and then piece the narrative clues together.
Here's a brief summary of Ninotchka's plot: After the Russian Revolution of 1917, three Soviets attempt to sell a Grand Duchess' jewels. Count Leon (Melvyn Douglas) travels to Paris, where he meets a Soviet "envoy extraordinaire," Nina Ivanovna "Ninotchka" Yakushova, portrayed by the cinema icon Greta Garbo (whose 113th birthday is this week). As the primary objective coalesces with Parisian romance, the uptight Ninotchka and the suave Leon find something special, and a comedy of errors produces one of cinema's most underrated scenes.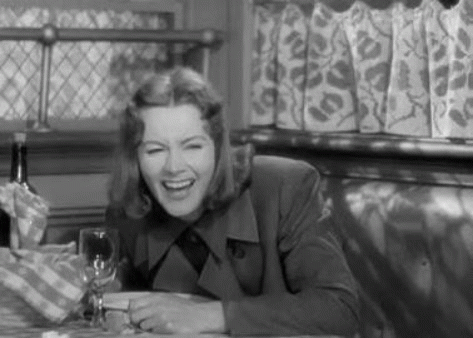 Ninotchka's restaurant scene, promoted in pop culture as "Garbo Laughs!," means more, for me, at age 38 than it did in college. Back then, the distinct narrative shift caught my attention, as Leon furiously attempts to entertain Ninotchka with trained social bravado and familiar jokes before falling from his seat and breaking his backside (one might assume), thus making the Soviet laugh, and quite hard — we're talkin' snot-rocket hard. Prior to that, Leon's demeanor comes across as "Like me! Love my friends, too! Be like us!" — but the Count, or "Leonitchka" as the drunk male Soviets lovingly call him, doesn't understand that Ninotchka conforms when she's ready to conform. If she doesn't "read the room" properly, then she just may head to another room, because that's how she rolls. But within this interpersonal conflict, there's indeed a romantic connection, and Leon manages to laugh at himself, crucially, rather than posturing to maintain appearances.
Why Ninotchka? Why spend time on a black-and-white sociopolitical movie from 1939? For one, it's a fantastic starting point for a Garbo binge (FilmStruck will hook you up). As Ninotchka, Garbo executes the dialogue (co-written by none other than Billy Wilder) with a theatrical, deadpan cadence that hilariously contrasts the supporting characters' lines. When Ninotchka first arrives in Paris, she refuses a porter's offer to carry her bags. "That's social injustice," she says, to which the porter responds, "That depends on the tip." Now THAT is funny, and such dialogue is indeed representative of the "Lubitsch Touch" — double entendres that intermix gender, class, and conflicting interests.
Plus, Ninotchka's charm and endearing supporting characters make it a gateway film for those unfamiliar with Lubitsch's work. In fact, one could make the argument that Lubitsch's filmography from 1939 to 1943 represents the best five-year run for any Golden Age Hollywood director. Both The Shop Around the Corner (1940) and That Uncertain Feeling (1941) are under-appreciated gems, and To Be or Not to Be (1942) features one of cinema's forgotten icons (one my personal favorites), Carole Lombard, who died in a plane crash before the film was released. Heaven Can Wait (1943) also stars one of my favorite Golden Age actresses, the exquisite Gene Tierney, and begins with a bourgeoisie gent recalling his life experiences from the underworld, hoping for some resolution and a ticket to somewhere. For me, all of these films are part of the "Finding Ninotchka" experience, as the wink-of-the-eye humor and mega star power shows Lubitsch and his collaborators operating at top form. One can't help but smile, and snicker, and think about the pure excitement that is movie-making.
Beyond the pure thrill of watching Ninotchka, there's the human element. There's a little something for all demographics, and the viewing experience changes as one gets older. The jokes have different meanings, the accents on certain syllables are more noticeable. And for Greta Gerwig fans, it won't be hard to imagine the Lady Bird director/Frances Ha star as a modern day Ninotchka, smiling away as her worldview begins to expand, or playing it stern as she delivers a line such as, "I kissed a Polish lancer, too — before he DIED." The more I think about Ninotchka, the more I remember, and re-imagine, my own international adventures. That's always exciting, and bittersweet, and I guess I'll always be looking for Ninotchka. Like the "envoy extraordinaire" says, "They can't censor our memories, can they?"
---