Since 1978, Halloween hasn't just been a day to worship Satan and eat small candy bars. It's also been a celebration of a long-running, highly influential film series about a masked killer: Batman.
Just kidding. Trick-or-treat! It's Halloween, John Carpenter's seminal stab-fest that was subsequently ripped off by Friday the 13th, a lot of others, and its own inferior sequels. Borrowing concepts from prototypes like Psycho and Peeping Tom (both 1960), as well as gruesome grindhouse fare like The Texas Chain Saw Massacre (1974), Halloween was the first modern "slasher" movie, launching a sub-genre that dominated horror through the '80s (when they were America's chief export) and into the '90s.
The Halloween franchise consists of eight movies — we're not counting Rob Zombie's reboot and sequel, because screw them — and the most recent one is 15 years old. Yet they remain part of the zeitgeist, a reference point even for casual movie fans and people who don't like horror movies.
And yet … how much do we really know about them? How obsessively have we analyzed the details? Not obsessively enough, it seems to us! So here's a film-by-film breakdown of the story, the scares, and the stabbings that have made us Michael ad-Myer-ers for almost 40 years.
(Again, Rob Zombie's 2007 remake and its 2009 sequel are not included purely out of spite.)
For more detailed statistics, including a complete list of Michael's victims, see Part 2.
---
Some notes on methodology…
Kills: Only Michael's are counted. Offscreen kills are included if they are confirmed within the movie. Kills confirmed only in the novelizations and comic books do not count. Dog murders count.  
KPH: Kills per hour. Total kills divided by the runtime (not including credits or flashbacks) in hours (e.g., 85 minutes = 1.42 hours).
Jump scares: Defined as a moment when a character (and usually also the audience) is startled by something that proves to be un-scary, usually (but not necessarily) accompanied by a musical sting on the soundtrack.
Michael's musical theme/Michael breathing: Counted once per scene.
Michael vanishes: Instances where Michael is there one second, gone the next, as if supernaturally. Imaginary sightings are included (it's too hard to tell which ones are definitely imaginary), but instances where there's enough time between Michael's presence and his absence for him to have simply walked away like a normal person are not.
---
Halloween
THE MOVIE: The setting is Haddonfield, Ill., on Oct. 31, 1978 (a Tuesday, by the way). Exactly 15 years earlier, 6-year-old Michael Myers stabbed his sex-having sister to death. Now, as a 21-year-old who's called a 23-year-old in the closing credits, he has escaped from a mental institution and returned to steal his sister's gravestone and, as long as he's in town, kill some more teenagers.
Laurie Strode (Jamie Lee Curtis) is a virginal high school student babysitting young Tommy Doyle when Michael Myers shows up to murder them all. On his heels is Dr. Sam Loomis (Donald Pleasence), who has been Michael's psychiatrist ever since the blood-covered lad arrived at the nuthouse 15 years ago. Loomis is certain that Michael is an irredeemably evil, soulless monster, even though Michael hasn't said a word to anyone in 15 years. So either Loomis just really has a good eye for this sort of thing, or else Michael is keeping a vivid diary that Loomis has read.
The film ends with Loomis shooting Michael until he (Michael) is dead, whereupon he (Michael) vanishes because he wasn't dead after all, suckers!
NOTES: Haddonfield's Halloween traditions are unusual. A few kids go trick-or-treating in mid-afternoon, after which they all stay home with babysitters while their parents go to parties. My theory is that John Carpenter and Debra Hill (who co-wrote and produced the film with him) had never celebrated Halloween and had only read about it in an encyclopedia. (Wait'll we get to H3, where they think kids observe Halloween by wearing one of three identical prefabricated masks!) There's also talk of the homecoming dance being "tomorrow" — i.e., Wednesday, Nov. 1 — which  makes me think Carpenter and Hill did not go to high school, either.
---
Halloween II
THE MOVIE: Picking up exactly where the first one left off, most of H2 is set at Haddonfield Memorial Hospital, which is staffed by one (1) doctor (who is drunk) and a few nurses and has no patients other than Laurie Strode. (The nursery is full of newborns, but their mothers evidently bolted as soon as the cords were cut.) Michael Myers is pursuing Laurie specifically for some reason, which reason turns out to be that she is his sister and he's keen on killing all of his relatives. It's sort of his "thing." Brief glimpses of Laurie's childhood confirm that she was adopted by the Strodes and once visited young Michael at the nuthouse, and that all of this was totally made up later to justify having Michael continue to pursue her in the sequel.
Meanwhile, Dr. Loomis is running around Haddonfield yelling about how dangerous Michael Myers is. To help out, he points a gun at a mask-wearing teen who isn't Michael, causing the teen to run into the street and get smashed between two cars and blown up. (The teen turns out to be Ben Tramer, mentioned in H1 as the boy Annie set Laurie up with for tomorrow's homecoming dance. Loomis basically ruins everything.) In defiance of what would become slasher tradition, the cops actually listen to Loomis, though they also let him wave a gun around and chase innocent youths into traffic.
Michael murders some nurses, paramedics, and cops on his way to Laurie, then fails to kill her, making the whole day a bust for him. Loomis shoots him a few more times, and then Laurie shoots him in the face, but all it does is blind him, so Loomis blows up the room containing himself and Michael and this finally does the trick, or seems to.
NOTES: It took three years to slap a sequel together; in those days, a low-budget horror film returning a huge profit didn't automatically trigger a sequel like it does now. By this time, Jamie Lee Curtis deserved top billing with Donald Pleasence, so they shared it the way Ted Danson and Shelley Long did on Cheers.
Loomis is very proud of having shot Michael six times, and he tells everyone who will listen. Thing is, it's not true — he shot him seven times. Roll the tape!
(When these same events happened at the end of H1, it was indeed six shots. For some reason an extra shot was added when the scene was recreated for the sequel.)
Speaking of miscounts, someone says the body count at the hospital is "ten, so far," but Michael only killed eight people at that location that we know of. Perhaps there were others, or perhaps some patients died from neglect.
The stereotype is that people in these movies get killed after they have sex, but nurse Karen and paramedic Budd are murdered after only fooling around a little. Michael Myers has a zero-tolerance policy for teen horniness.
---
Halloween III: Season of the Witch
THE MOVIE: Michael Myers, Dr. Loomis, and Laurie Strode don't appear in Halloween III: Season of the Witch. Neither do any witches, for that matter. EVERYTHING YOU KNOW IS A LIE. Instead, it's a standalone story about a heavily mustached doctor who teams up with a much younger woman to investigate the death of her father, which takes them to a California town where the Silver Shamrock company makes America's bestselling Halloween masks. The masks figure into Silver Shamrock's plans to murder everyone in the country on Halloween night, using magic harnessed from Stonehenge, a piece of which they have stolen. How this will be good for business is not explained.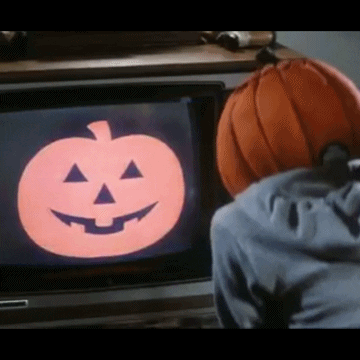 The plan hinges on the company's ability to sell masks to every kid in America. That's no problem, though, because the three masks are witch, skeleton, and jack-o-lantern — what else could you want?! They practically sell themselves! They also have a big, clunky "Silver Shamrock" pin affixed to the back. The way kids wear these masks, by the way, is in addition to whatever their costume is. So, for example, you'll have a ballerina with a witch face, or a ghost with a jack-o-lantern face. Evidence mounts that the people who made these movies did not know what Halloween was.
NOTES: With two hit films under their belts, Carpenter and Hill took the next logical step: a third film that has nothing to do with the other two but still uses the title Halloween. This was a fool-proof plan and it's shocking that audiences didn't like it. 
---
Halloween 4: The Return of Michael Myers
THE MOVIE: Ten years after that fateful Halloween night, a badly burned Michael Myers pops out of his coma while being transferred to another prison and returns to Haddonfield because he happened to overhear the paramedics mention that he has a niece there. She is 8-year-old Jamie (Danielle Harris), daughter of Laurie Strode, who died 11 months ago because Jamie Lee Curtis didn't want to be in the movie. Jamie is self-conscious about having a serial killer for an uncle, and she worries that her foster family doesn't love her as much as they would a real daughter, which appears to be true.
Dr. Loomis, also burned but somehow not dead after blowing himself up, arrives in Haddonfield and starts bossing the police around again, just like old times. A bunch of beery rednecks, dissatisfied with how things went last time Michael was visiting, form a posse and kill an innocent bystander who made the mistake of wearing a mask in the presence of an angry mob. Michael kills some teens and a dog, impales a girl with a shotgun, rips a man's face off — you know, the usual — before being shot a few more times and falling into a mine shaft, whereupon everyone assumes he's dead and doesn't bother checking. But Jamie briefly touched Uncle Mike's hand and got some evil on her, causing her to stab her foster mother and Dr. Loomis to complete lose his shiz.
NOTES: This was the first one that series producer Moustapha Akkad made without John Carpenter and Debra Hill, who'd sold their interest in the franchise. It has that low-budget, knock-off feel — you can't afford Jamie Lee Curtis so you invent a daughter — complete with an exploitation shock ending.   
A prison guard says Michael Myers "murdered 16 people, maybe more" on Halloween 1978. The real number was 12 (plus the uncredited truck driver, plus a dog). This guard also repeats the fake news that Loomis shot Michael six times; it was seven, and it omits the fact that Dr. Loomis and Laurie shot him another five times later that night (which evidently didn't make the public record).
Once again, two teens (Brady and Kelly) are killed after only almost having sex. That must sting in the afterlife. "You mean we could have done it?!"
---
Halloween 5
THE MOVIE: A year after she stabbed her foster mom (who survived but isn't in the movie, just take the movie's word for it she's OK), young Jamie is in hospital for crazy children, unable to speak and psychically connected to Michael Myers. And you'll never believe this, but Michael didn't die when he got shot and fell into that mine shaft! He was found by a kindly hermit who nursed him back to health for a year, whereupon Michael killed him, because Michael is trash.
Dr. Loomis is back too, of course, asserting his authority over the police department and shouting at Jamie to help him find Michael. A few awful teens are murdered, including a balding blond dude who likes to play pranks and has sex with his pants on, and a jerky guy named Mikey who has a cool car. Michael steals Mikey's Halloween mask and his car, picks up Tina for their date, and acts like a perfect gentleman for once.
Using Jamie as bait, Loomis lures Michael to the Myers house, which has grown into a mansion since the last time we saw it. There Michael is ultimately captured and put in jail, only to be rescued by a mysterious Man in Black who shoots up the police station and whisks Michael away, much to the consternation of poor Jamie. Cliffhanger!
NOTES: Posters for this movie called it Halloween 5: The Revenge of Michael Myers, but onscreen it's just Halloween 5. That's good, since Michael Myers doesn't get revenge on anyone. In fact, the two people he most wants to kill, Jamie and Dr. Loomis, are the two he doesn't kill. Halloween 5: The Failure of Michael Myers would have been a better title, though admittedly not as appealing in a mass-market sense. 
There were probably discussions about how much trauma and terror they could inflict on a 9-year-old girl before the audience would find it distasteful. Those discussions should have lasted longer.
---
Halloween: The Curse of Michael Myers
THE MOVIE: It's six years later. Jamie Lloyd, now all of 15, gives birth to a son while being held captive by the Man in Black's cult, which needs a baby for sacrificial purposes. (Has Jamie been a hostage all this time? Who impregnated her? This is icky.) Jamie escapes, hides the baby in a bus depot, and gets killed in a barn (no matter where you are in a Halloween movie you are never far from a barn) by Michael Myers, who burns a rune into the hay. Dr. Loomis sees this symbol and says, "It's his mark. He's come home." Well, buddy, I just watched five Halloween movies before this one, and this is the first I'm hearing of Michael having a "mark."
Meanwhile, the old Myers house is now occupied by a newly invented branch of the Strode family. The oldest daughter, Kara, has a 5-year-old bastard named Danny who hears the same "voices" Michael used to hear (something else we're just learning for the first time), but that plot thread is not developed.
Also meanwhile, the boy Laurie Strode was babysitting that first night, Tommy Doyle, is now a 25-year-old weirdo played by Paul Rudd. (The credits say, "Starring and introducing Paul Stephen Rudd," who'd been introduced to us two months earlier in Clueless.) Tommy finds the baby in the bus depot and tells Dr. Loomis, whom he happens to run into at the hospital, that it's Jamie's and that Michael is back. Michael is indeed back, and he kills most of the new Strode family, who aren't his relatives — the Strodes adopted Laurie — but who deserve to die for living in his house and being jerks.
More also meanwhile, Dr. Loomis' colleague Dr. Wynn turns out to be the Man in Black, whose Druid cult has an elaborate plan that I do not fully comprehend but that Michael seems to be involved in, though I am not certain Michael realizes it. He kills most of the cult's doctors, so I think maybe he was not involved in the crucial decision-making. Anyway, Paul Rudd "kills" Michael, who of course is not dead, and a bunch of loose ends are left dangling, but whatever.
NOTES: They stopped numbering them here (anything above a "3" in a sequel title starts to sound ridiculous), and you can tell the whole thing was going off the rails as they tried to set up new avenues for future sequels to take. There exists a "producer's cut" of this movie that is presumably more coherent, though I would not bet money on that.
If you watch this film, be prepared to spend the whole time concerned about the baby, who never gets fed.
---
Halloween H20: 20 Years Later
THE MOVIE: Remember H4, H5, and H6? Well, forget them, because they never happened! In the new reality, Michael Myers burned up in that fire at the end of H2 and was never heard from again — until now, 20 years later, when he steals Laurie Strode's file and road-trips to California to kill her once and for all.
You ask: Where has he been all this time? The movie replies: Dunno!
Laurie, now called Keri Tate, is the secretly alcoholic headmistress at a snooty private school in NoCal. Her 17-year-old son, John ("introducing John Hartnett"), is a student there, and he has HAD IT with mom's Halloween-related phobias. She hasn't told her guidance-counselor boyfriend Will (Adam Arkin) who she really is.
Also, LL Cool J is the school's security guard, and he writes erotic fiction in his downtime.
Just as Laurie/Keri is starting to come to terms with her past and open up to her boyfriend, wouldn't you know it, Michael Myers shows up. He barely kills anyone — just Will and a couple of teens — but his presence really throws Laurie/Keri off her game. Finally she stabs him, pins him between a van and a tree, and cuts his head off. Now, Michael actually tricked her into beheading the wrong guy, but we don't learn that till the next movie, so let's just let her have this for now.
NOTES: They got Jamie Lee Curtis back for this one, and almost John Carpenter too, but he wanted too much money. Other than that, they went all out, hiring real actors and everything. The opening credits, a montage of past events backed by a lush new orchestral arrangement of the classic theme music, are like the beginning of a Spider-Man movie.
Unfortunately, the title is Halloween H20: 20 Years Later, which is short for Halloween Halloween 20: 20 Years Later, which is stupid.
The film takes place on Halloween 1998. That was a Saturday. All the kids are in school. This is why we can't have nice things.
The opening credits include a glimpse of Laurie's high school yearbook photo, labeled "class of '78." But she was still a student on Oct. 31, 1978, which means she was class of '79 at the earliest. This, to a lesser extent, also prevents us from having nice things.
It bothers me when inferior sequels are retroactively wiped out of existence. WHY DID I WATCH THEM, THEN?? You think I'm doing this for my health?
---
Halloween: Resurrection
THE MOVIE: Three years later, Laurie Strode is in the nuthouse, guilt-stricken over decapitating the wrong guy at the end of the last movie. When the real Michael arrives, she gets the drop on him and is about to kill him when she gets nervous and wants to pull off his mask first (fool me once, etc.), whereupon he turns the tables, stabs her (in the back!), and sends her plummeting to her death. More than 50 murders later (or 15, if H4-6 didn't happen), Michael Myers finally gets the one he wanted all along. Congratulations, Michael Myers! The end.
No, wait, there's more movie. Ugh. Busta Rhymes is producing a reality show where six college students go into the Myers house and get scared by things. All the scary stuff is fake, of course, but then Michael actually shows up, of course, and kills most of them. Busta Rhymes survives; Tyra Banks does not.
NOTES: There's a crazy person in this movie who's obsessed with serial killers and recites Michael's statistics from memory. I appreciate the film having a character based on me, but I wish he'd gotten his facts straight. He says Michael killed three high school students on Halloween 1978, followed by "three nurses and a paramedic" later that night. Sir, I will have you know that Michael killed four nurses, a paramedic, a doctor, a security guard, a state marshal, and a random teenage girl after those three high school students that night. A little respect, please. 
More statistics in Part 2…
---
Eric D. Snider waits patiently, silently, in Portland.