If you faced The Meg (opening this weekend), a 75-foot prehistoric shark properly called "Megalodon," odds are you wouldn't survive. In that spirit, let's remember some of the aquatic killers that have scared us since the 1950s and calculate the odds of surviving an encounter with them.

The Beast from 20,000 Fathoms (1953) — Uh-oh. In this Harryhausen classic, you've stirred up a giant dinosaur creature from its frozen state with an atomic bomb. No one likes to be woken up from a nap, especially without coffee. This guy is ticked. Odds of survival: 50 to 1.
The Creature from the Black Lagoon (1954) — Fishy-fan-handed guy comes from the water to grab you and wreak havoc. Really, he just wants a companion. Odds of survival: 2 to 1, if you humor him with a brunch date and let him down easy.
Attack of the Crab Monsters (1957) — Nothing ruins an island vacation more than nuclear crab monsters. To make matters worse, crabs absorbed the intelligence of the scientists they ate and have become giant and telepathic. So, they know you've eaten at Red Lobster. Odds of survival: 80 to 1 with a pat of butter.
Fantastic Voyage (1966) — Technically not a "water movie," but, hey, our bodies are 60% water. You get shrunk and injected into the body of a scientist to try and remove a blot clot (his co-pay is enormous). If this guy is healthy, you're probably going to be OK. If he runs on Dunkin, avoid the colon. Odds of survival: 5 to 1.
Frogs (1972) — Frogs terrorize your grandpappy's plantation, eating people. Yes, really. They can jump like the dickens, but frogs are not the fastest creatures on Earth. Before you outrun them, try kissing one. It may be a prince! Or certain death! Odds of survival: 2 to 1; 100 to 1 if you're Ray Milland in a wheelchair.
Jaws (1975) — You're summering on Amity Island, but a giant great white shark is on vacation, too, and he's jonesing for naked hippies and little kids. Get on the Orca with Chief Brody and the gang, but leave the alcohol at home (Quint's got a problem). And for God's sake, get a bigger boat! Odds of survival: 3 to 1 if the boat gets bigger; 80 to 1 if Quint gets ahold of beer.
Orca (1977) — Orcas are usually pretty chill, but you went and killed a male orca's mate, who happened to be pregnant. Now he's getting revenge, Death Fish-style. Also, he bites off Bo Derek's leg. Odds of survival: 100 to 1 if you mess with the whale's fam or if you're Bo Derek's leg.
Piranha (1978) — You're stuck in Joe Dante's Jaws parody, which follows killer piranhas as they terrorize a kids' summer camp. Those fish are really hungry and they can jump out of the water. You may want to let them eat you so you don't have to deal with 200 10-year-olds. Odds of survival: 50 to 1.
Jaws 2 (1978) — You and Roy Scheider are back (contractually) in this sequel. It's mostly teens in jeopardy, so put on your bell-bottoms and denim news cap if you want to take a chance. But this shark is so big, it actually eats a helicopter. Stay unpopular and go home to play Atari with mom. Odds of survival: 1000 to 1.
Friday the 13th (1980) — You've made it through a really shitty Friday the 13th. You're chilling in a canoe when algae-covered, big-headed tween Jason jumps out of Crystal Lake and tries to takes you down. It's a tough call, because that little guy's determination makes him a contender for the kill and you might feel guilty about punching a kid with special needs. Odds of survival: 5 to 1.
Jaws 3-D (1983) — You're waterskiing in a new waterpark/aquarium and see a fin behind you. Don't panic; just push the person next to you into the water. Ride to shore, run like hell, and stop briefly to tell Louis Gossett Jr. he needs to give back his Oscar. Odds of survival: 20 to 1 if you're ruthless or phoning in your performance.
Jaws: The Revenge (1987) — Lorraine Gary lives! Mario Van Peebles doesn't! No one cares! Is that Michael Caine? Odds of survival: What? I don't know. You will probably die of disbelief that Michael Caine is in the movie with you.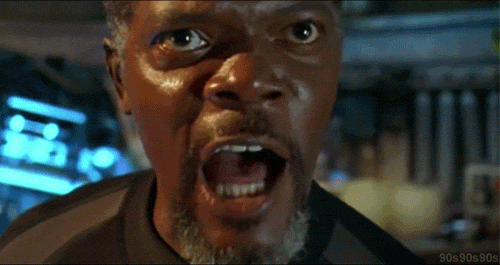 Deep Blue Sea (1999) — Using your college degree in science stuff, you made sharks smarter in the name of fixing Alzheimer's. Did you fix Alzheimer's? No. But you did make the sharks intelligent enough to realize they're tired of eating fish and they want to upgrade to people, a parrot, and Samuel L. Jackson. Hooray for science! Odds of survival: None, but it's your own fault.
Open Water (2003) — A tour boat leaves you and your spouse behind and there are sharks surrounding you. Ready to reinvigorate your marriage? Womp womp. You don't have a lot of options here, but I'll bet you're more grateful for your significant other, aren't you? Aren't you?!!? Odds of survival: None. Odds of learning a lesson: Even.
The Shallows (2016) — You, your bikini bod, and a seagull fight off a really big and angry shark. Luckily, you're a doctor and can suture yourself. Oh, and you are a really good swimmer. Wait, what's this? You find a video camera and create an SOS. And, stop the presses: You are able to kill the shark in the most ridiculous manner! Odds of survival: Even, unless you're grounded in reality.
---