To raise the money to open a restaurant in the Valley, a straight-laced married couple lures sexual deviants to their Hollywood apartment to murder and rob them. In the midst of a hotly contested New York mayoral race, a tabloid journalist investigates a wave of high-profile robberies and learns how far up the criminal conspiracy goes. Fortune hunters in the Old West descend upon a New Mexico town in search of long-buried gold. A quartet of dim bulbs of varying brightness get wind of a sure bet at the track and take out a loan from the mob to cover it. A Beverly Hills chauffeur and the houseboy next door bet they can bed each other's newly single employer, not realizing they have already entertained the idea of sleeping with the help.
Whatever the setting, the comedies Paul Bartel directed in the '80s detailed the divide between the haves and the have-nots – as well as the lengths to which the latter were willing to go to join (or supplant) the former. They also neatly encompassed Ronald Reagan's presidency since the first, 1982's Eating Raoul, appeared one year into his first term, and the last, 1989's Scenes from the Class Struggle in Beverly Hills, came out just a few months after his vice president succeeded him. Raoul had been in the works for a couple of years while Bartel scrounged up the money to film it, though, so while it wasn't a direct response to Reagan's brand of conservatism, it still reflected the "anything to get ahead" mentality that gripped the U.S. in the wake of his sweeping victory.
"Nobody can say we don't earn this money." –Paul Bland
Eating Raoul's wannabe restauranteurs, Paul and Mary Bland (Bartel and frequent co-star Mary Woronov), are introduced working in a liquor store and as a hospital nutritionist, respectively. Money woes pile up quickly when the refined Paul is fired for refusing to push the cheap wine his boss wants him to, the bank cancels their credit card, and their rent goes up astronomically. The Blands blame the last on the swingers trooping in and out of their building at all hours, so when one tries to force himself on Mary, Paul kills him with a frying pan, whereupon they discover he's loaded with cash. Deciding the world is "overflowing with millions of sexual freaks," they set about ridding it of some of them and socking away the $20,000 they need for their restaurant. It's not long, however, before self-professed "hot-blooded, emotional, crazy Chicano" Raoul Mendoza (Robert Beltran) horns in on their scheme and resolves to steal Mary away from Paul. There's no honor among thieves – or class solidarity – when two of them are competing for the love of a third.
Throughout, Bartel keeps tongue planted firmly in check, avoiding bloodshed in the interest of keeping things light, even as the bodies pile up and (once Raoul joins the operation) get turned into dog food. Eating Raoul is the ultimate indictment of the capitalist system and realization of the adage that the ends justify the means. Paul even justifies his first murder by surmising his victim was the bank official who canceled their credit card, and Mary has a similar run-in with the randy loan officer (played by Buck Henry) who turned them down for a small business loan because she wouldn't put out for him. As much as Paul and Mary look down on their victims, Bartel declines to judge the couple, who are last seen living the American Dream, beaming in front of Paul and Mary's Country Kitchen.
When Eating Raoul turned out to be a sleeper hit, Bartel parlayed its success into getting the even-longer-gestating Not for Publication greenlit. The result is an off-kilter screwball comedy about corruption in high and low places, and a tabloid reporter (Nancy Allen's Lois Thorndyke) who wants to live up to the memory of her Pulitzer-winning father. Like many in the film, Lois lives a double life, writing under a pseudonym and secretly volunteering on the reelection campaign of Mayor Franklyn (Laurence Luckinbill), hailed as "champion of the poor, defender of the public morals," who has plowed his own money into a low-income housing project. If Franklyn seems too good to be true, that's because he is, but it's some time before Lois sees the light and her trusting nature nearly costs her dearly.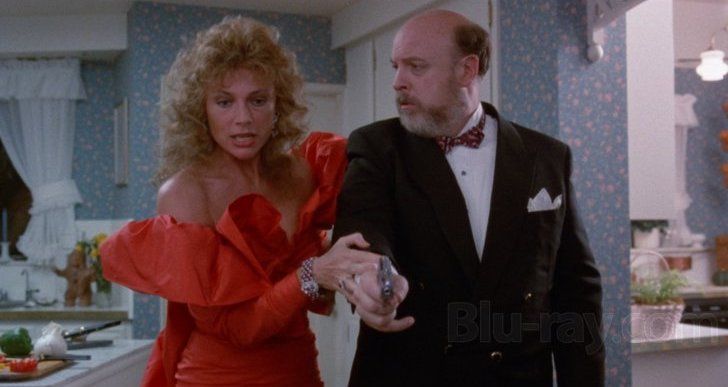 "Everybody's trying to suck every dime you got out of you." –Stump in The Longshot
After Not for Publication, Bartel went into work-for-hire mode, directing Lust in the Dust for producer-star Tab Hunter and The Longshot for writer-star Tim Conway. In spite of his inability to put his authorial stamp on either project, they still touched on some of the themes he'd been playing with. The greed that manifests itself in the pursuit of the buried gold in Lust drives the action from the get-go, with alliances formed and broken in rapid succession. When enough money is at stake, there's no line some people won't cross – or partners they won't double-cross.
As for The Longshot, Conway plays up the haplessness of his quartet of nobodies whose lives revolve around the racetrack. The prospect of hitting it big motivates them to risk going to a loan shark when the alternate plan of Conway's character seducing a wealthy widow goes predictably awry, but even with old pros like Harvey Korman and Jack Weston backing him up, there's little that can be done to breathe life into his corny script. (This is exemplified by the scene where Ted Wass's Stump gives mouth-to-mouth to his goldfish.)
Next up for Bartel was writing, directing, and starring in a pair of Amazing Stories – "Secret Cinema," a remake of his 1966 short of the same name, and "Gershwin's Trunk," about a blocked Broadway composer who uses a medium to channel George Gershwin and commits murder to keep his secret – after which he closed the decade with Scenes from the Class Struggle in Beverly Hills. Conceived with Bruce Wagner, who penned the screenplay, Scenes is a feature-length extension of the opening montage from Eating Raoul, which described Hollywood as a "city of contrasts, home to the rich and powerful, yet so popular with the broke and destitute." The difference in Beverly Hills is the rich and powerful and the broke and destitute often sleep under the same roof and occasionally in the same bed. When chauffeur Frank (Ray Sharkey) makes his bet with Juan (Robert Beltran) and they both hold up their end of it, he's exultant. "We did it," he boasts. "Don't you see? Our side won." Victory over his betters isn't the end-all, be-all for Juan, though, whose real ambition is to acquire some land. "Something that's mine, you know?" Suffice it to say, Bartel did.
One thing he wasn't able to do before he died in 2000, however, was get solid backing for the proposed Eating Raoul sequel Bland Ambition, the plot of which co-writer Richard Blackburn describes on Raoul's commentary. As it involves Paul and Mary Bland getting roped into a contentious California gubernatorial race, it's a tantalizing might-have-been, but the body of work Bartel left behind (which also includes 1972's unclassifiable Private Parts and his two New World Pictures, Death Race 2000 and Cannonball) is enough to secure him the cult status he deserves.
"Eating Raoul" is currently streaming on HBO Max. "Not for Publication" can be viewed on Kanopy. "Lust in the Dust" is on Tubi. "The Longshot" is on Starz. "Scenes from the Class Struggle in Beverly Hills" isn't streaming anywhere, but is available for purchase from Kino Lorber.