Welcome to Harvey's Hellhole, a monthly column devoted to spotlighting the movies that were poorly marketed, mishandled, reshaped, neglected or just straight-up destroyed by Harvey Weinstein, during his reign as one of the most powerful studio chiefs in Hollywood. This month, with Guillermo del Toro's "Nightmare Alley" on its way to theaters, we look back at his single, ill-fated collaboration with the Weinsteins.
When I first saw Mimic way back in August 1997, I was mostly unimpressed. Since it was the latest scarefest from Miramax's Dimension Films wing, a B-movie boutique that seemed to put just as much effort into their movies as they did in their lousy posters (seriously, their posterswereawful), I wasn't exactly prepared to be blown away.
At the time, I didn't really know about the filmmaker who would be providing this creepy, cinematic experience. All I knew was that his name was Guillermo del Toro, and it sounded like he was Mexican. I didn't see his debut 1993 film Cronos, until — actually, it was late last year. I didn't know he was a filmmaker who merged the scary with the spiritual, as Kayleigh Donaldson broke down on this very site a couple months ago. Basically, back then, I was young and I didn't know a gotdamn thing.
Having recently watched the movie again for this column, now that I've been well-versed in the del Toro filmography, from The Devil's Backbone (a ghost-story masterwork) to Oscar winner The Shape of Water (Sally Hawkins fucked a fishman!), I can now appreciate Mimic for the visually ambitious creature feature that it is.
Ironically, Mimic is also a film del Toro loathed making. He revealed how miserable a time he had at a screen talk at the BFI London Festival in 2017:
"I really hated the experience," del Toro said to the crowd at the festival. "My first American experience was almost my last because it was with the Weinsteins and Miramax. I have got to tell you, two horrible things happened in the late nineties, my father was kidnapped and I worked with the Weinsteins. I know which one was worse… the kidnapping made more sense, I knew what they wanted."
Yes, like so many filmmakers who've had to deal with Bob and Harvey Weinstein to get a film made, del Toro didn't come out of the ordeal singing their praises. According to this lengthy piece from Diabolique Magazine, the relationship, as most relationships do, started off sweet. When the Weinsteins hit up del Toro in the mid-'90s about working together, he told them if they had a story involving insects, he'd be interested.
He already had something in mind: a 1942 short story by Donald A. Wollheim about a man who was really an insect, breeding his young in his apartment. Del Toro worked with filmmaker Matthew Robbins (Dragonslayer) to develop the story. He also brought in concept designer TyRuben Ellingson and legendary makeup effects creator Rob Bottin to create the creatures who would go on a homicidal rampage.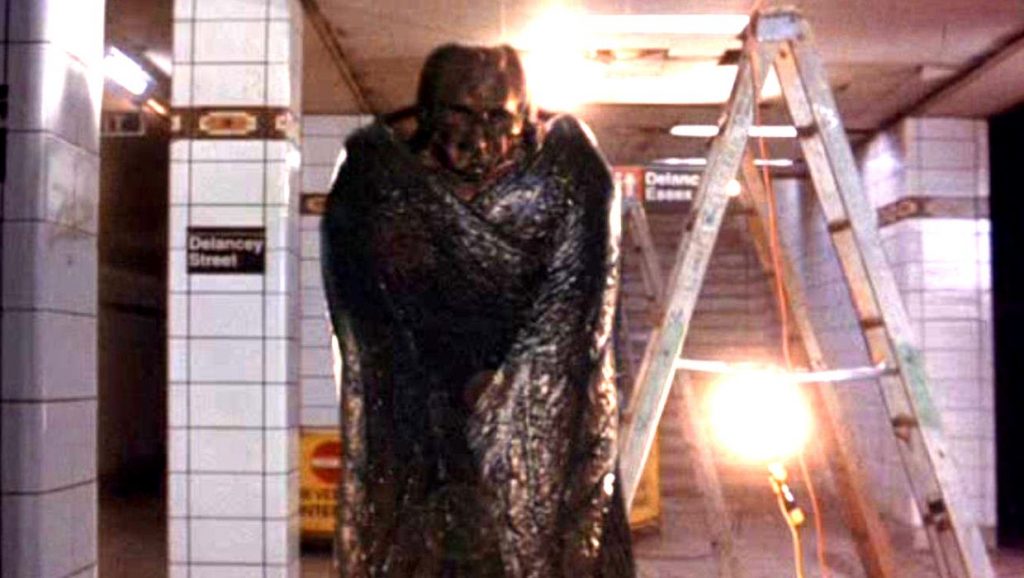 Despite all the deeply researched work del Toro and Robbins did in creating a story of insect evolution turned haywire (as well as inviting such A-list script doctors as John Sayles and Steven Soderbergh to do their own batshit-crazy rewrites), the studio just wanted a horror film — not this artsy-fartsy stuff he was giving them. Since the movie is set in New York, the higher-ups wanted a tale of mutant cockroaches wreaking havoc on the Big Apple. (In the original script, the killer insects came from bark beetles.) Meanwhile, del Toro was horrified he would end up making "the giant cockroach movie."
Of course, that's what Mimic became, a monster movie where entomologist Susan Tyler (Mira Sorvino) unleashes a new breed of insect (called the "Judas breed") on New York's cockroach population, in order to save future children from getting a disease carried by the bugs. While this engineered insect is supposed to die out, it eventually evolves to the point where it can pretend to be fully mobile adults, walking around Manhattan and wiping people out.
Despite being forced to make a plain ol' B-movie, del Toro did manage to turn out a flick that is drenched in the same moody, noirish, visual style that he would create in many future films. (Shout-out to longtime David Cronenberg production designer Carol Spier for making New York look all pulpy and dingy.) Even though del Toro has admitted that making Mimic was a dismal experience, it did come out looking like a Guillermo del Toro movie. As he told the crowd at BFI London, "I lost casting battles, I lost story battles, but the one thing Mimic is is visually 100% exactly what I wanted," he said. "The movie is visually gorgeous and it has a couple of sequences I'm very proud of." (Sorvino also fought along with del Toro in keeping his visual and formal vision intact, which may have damaged her career down the line.)
Mimic is also a story where religion and humanity — two subjects that often pop up in that "raging atheist" del Toro's filmography — play substantial roles. Sorvino's entomologist practically plays God in creating an insect that'll wipe out all cockroaches, until some cockroaches evolve and turn the tables on these silly humans. Eventually, Tyler gets trapped in an abandoned subway car, deep in the bowels of New York, along with her husband (Jeremy Northam), a transit cop (Charles S. Dutton) and a heavily religious shoeshine man (Giancarlo Giannini) looking for his "special" son (Alexander Goodwin), trying to steer clear of these superbugs and their killer instincts.
The cut that was shown in theaters is not his — del Toro was never given final cut privilege. The $30 million movie made only $25.5 million at the box office. (I do understand people not wanting to deal with a gross-ass, giant-cockroach movie back then.) Reviews were mixed upon release. Siskel and Ebert gave it two thumbs up, commending del Toro for properly scaring the crap out of them. However, former New Times critic Michael Sragow was just as unimpressed as I was so long ago, saying it "static, high handed, and confused, wasting most of its 105-minute running time simply spelling out the premise." It did land on a couple of critics' ten-best lists that year, including that of Pulitzer Prize finalist Peter Rainer, who called del Toro "a true movie poet" who "stages some sequences that are as creepy and suggestive as anything in the great silent horror classics by Murnau or Dreyer." (The movie did spawn — excuse me — two straight-to-video sequels.)
When the Weinsteins moved on from Miramax, the company released a del Toro-approved "director's cut" on Blu-ray and digital services in 2011. (Amazon Prime Video appears to be the only service where you can get the theatrical and director's cut.) That cut deletes a couple of jump scares from the theatrical cut (shot by second-unit crews which included Robert Rodriguez) and adds several scenes that could've been easily excised, including scenes that flesh out the pregnancy subplot that turned out to be a red herring in both versions. As much as I hate to side with the Weinsteins, the theatrical cut is still the tightier, nastier ride. Even though the story is your standard-issue, scary-movie pap, full of supposedly intelligent human beings making the most boneheaded decisions, those giant, flying cockroaches are still some scary mofos. Sometimes, you just gotta let a B-movie be a B-movie.
As del Toro's latest, all-star adaptation of the 1946 novel Nightmare Alley (which was made into a 1947 film noir starring Tyrone Power and Joan Blondell) hits theaters this month, perhaps he'll take a cue from his experiences on Mimic and get back in the B-movie groove. But, knowing how ambitious del Toro gets behind the camera, I highly doubt it.
Mimic is available to stream or buy.