There's something wonderful about watching an artist seem to lean into their criticisms – to gather up the tics and affectations they are (often unfairly) reduced to, and take them to their logical endpoint. Here, we look at the case of Wes Anderson, often accused of making not films but overly stylized art objects, fussy items that value design over emotion. And in response, he has made… a film in the form of a magazine.
A supplement, to be more precise, which shares the title of the film: The French Dispatch, "of the Liberty, Kansas Evening Sun," per the subtitle. The editor of said publication is Arthur Howitzer Jr. (Bill Murray), and the first section, which introduces him and explains the publication's origins, will delight any and every writer you know; Howitzer is such a consummate editor that we see a marked-up version of his will, and as he runs down the various temperaments of the writers in his employ, one cannot help but feel, as the youth say, "seen."
But that's set-up, the masthead, if you will. The film collects the contents of a typical issue – "An obituary, a travel guide, and three featured articles" – divided by sections and pages, looks and styles. All are set in or around the spotlight city, the fictional (and hilariously named) "Ennui-sur-Blasé," France, introduced in the travel guide by Herbsaint Sazerac (Owen Wilson).
One of the features is a tale of art-world intrigue and doomed romance, with Adrien Brody as an early dealer of Modern Art, Benicio del Toro as the brilliant artist who also happens to be an imprisoned murder, and Léa Seydoux as his guard and muse. The second, based on the May 1968 student protests, features Frances McDormand as a reporter who gets a little too attached to the charismatic ringleader of the "Chess Board Revolution" (Timothée Chalamet). And in the third, an essayist (Jeffrey Wright) recalls the time his reported piece on the personal chef (Stephen Park) of the police commissar (Mathieu Amalric) was interrupted by the kidnapping of the commissar's son.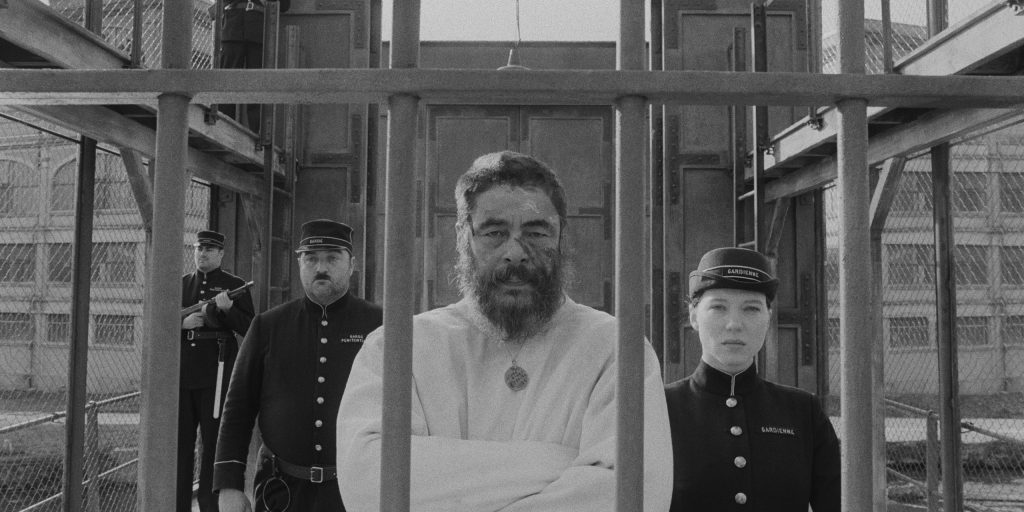 What Anderson has written (with story assistance credited to Roman Coppola, Hugo Guinness, and Jason Schwartzman) is a valentine to journalism – and to writers in general. "I chose this life," Wright's James Baldwin-inspired character notes, of the solitude of this work and its side effects, and in the picture's most reflective moments, Anderson sympathizes. But this particular affection seems an extension of the filmmaker's ongoing interest in storytelling itself, as most memorably captured in The Grand Budapest Hotel; he loves to engage with not just a story but with the manner in which it is shared, and here, he deploys dual framings for the first and third features in which we observe the writers retelling those published stories in other public settings, displaying a keen understanding of the ways in which writers will continue to convey these experiences for years thereafter.
And yet, charmingly, this film that loves writers is also one of Anderson's most lavishly directed – which is, I know, saying something. His giddily ornate style is fully in place, but with new flourishes; least surprisingly, considering the time and place, the aesthetic earmarks of the French New Wave are very much accounted for. But Anderson isn't just imitating. He's extending that era's spirit of formal and narrative playfulness, complimenting the aforementioned dual structures with counterpoint split-screens, surprise subtitle placement, and willy-nilly saturation. The stories are mostly in black and white, except the moments when he seems to have simply decided they shouldn't be (like when we see Benicio del Toro's paintings, or Saoirse Ronan's eyes). And near the end of the third story, he renders the big chase scene in animation, because why not.
Anderson's films have also become a welcome opportunity for serious actors to let their hair down – Tilda Swinton is clearly having a blast, and Frances McDormand hasn't had this worthy a vehicle for her magnificent comic timing since Burn After Reading – and in terms of sheer laughs-per-minute, this may be Anderson's funniest film (at the very least, it rivals Rushmore). But it's not lightweight, and it's not silly, and there's a moment of genuine pathos at the end of the third story that's quite unlike anything Anderson has ever done. I'd watched the film, to that point, with a big dumb grin across my big dumb face, and then I realized I was misty-eyed as well. What a delightful movie this is.
A
"The French Dispatch" is in theaters Friday.