The sixth Mission: Impossible movie was released 22 years and two months after the first one — say what you will about this franchise, they're not crankin' 'em out like sausages. There's always a gap of at least three years between entries, as that's how long it takes a new Tom Cruise clone to reach maturity and replace the one that came back from the previous film damaged beyond repair.
Those six movies have made more than $3 billion worldwide (and counting — Fallout just opened) and constitute the only franchise that the world's biggest movie star is affiliated with (until Top Gun 2, I guess). Some scenes have become iconic, and Lalo Schifrin's now-52-year-old musical theme has the world tapping its toes in 5/4 time.
But how much do we really know about these movies? Have we pored over them, picked them apart, scrutinized their minutiae until we've taken all the fun out of them? Well, we have now! Here's a film-by-film breakdown, whether you choose to accept it or not.
---
Notes on methodology: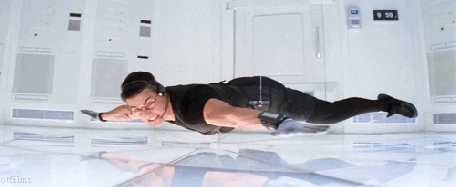 "Dangling" means attached to a rope or rope equivalent and suspended in the air — the famous CIA break-in sequence in the first movie, for example. The key factor here is that he's tied to something, leaving his hands free.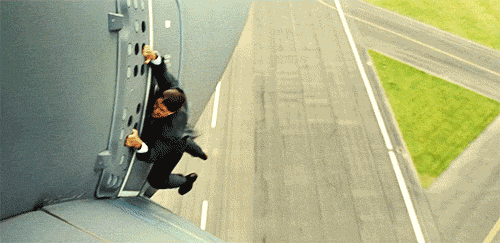 "Clinging" means hanging onto something with his hands and/or feet — the top of a moving train, the side of a speeding car, pulling himself up a rope, etc. Rock climbing consists mostly of clinging, as does sticking to the side of the Burj Khalifa with Spider-Man gloves.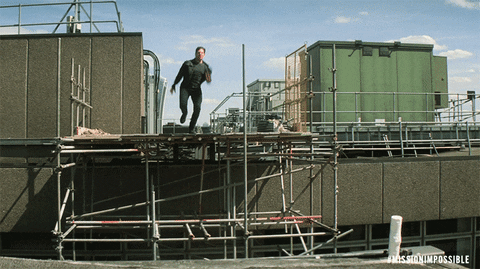 "In mid-air" means he's not tethered to anything and no part of him is touching the ground — free falls, jumps, being tossed in the air by an explosion, etc. We also included time when the motorcycle or car he's driving catches air.
"Running" means running.
"Physically harmed" means anything from a hard shove to assassination.
When calculating Ving Rhames' screentime, we counted only the actual time that he is visible onscreen or that his voice is heard, not the entire scene.
---
Mission: Impossible
THE MOVIE: Fans of the original TV series are confused when its protagonist, Jim Phelps, appears in the form of one-million-year-old Jon Voight, not the youthful Tom Cruise they were promised. Cruise plays Ethan Hunt, a younger agent who looks up to Phelps. When Phelps and the rest of the team are killed during a mission, Ethan is accused of masterminding it and goes on the run. He recruits two disavowed agents, Luther Stickell (Ving Rhames) and Franz Krieger (Jean Reno), to find the real killers and clear his name. Turns out Jim Phelps (who faked his death) and his wife, fellow agent Claire, are behind it all and were planning to sell the stolen list of secret agents to Vanessa Redgrave, of all people.
NOTES: The first entry establishes a lot of what was to come (the masks, the disavowals, the tech guy as comic relief), but it's also different from its successors in some ways. For one thing, Ethan Hunt sits down a lot in this one — the scenes where he's seated total more than 30 minutes. There's plenty of talking in subsequent chapters, too, but Ethan tends to stand up for it, maybe because he's the team leader now. 
Boy, were people surprised when Emilio Estevez got killed so early! Nobody expected that, not so soon after his Mighty Ducks triumphs. Today, of course, Emilio Estevez should be so lucky as to get killed early in a summer blockbuster.
Ethan's parents are mentioned here, and even shown briefly on television. The series never refers to them or any other family members again except to say they're dead in M:I—III — which is probably just Ethan's cover story for Julia. So the door is open for a sequel where Ethan goes on a mission with his mom tagging along. 
---
Mission: Impossible II
THE MOVIE: A rogue agent named Sean Ambrose (Dougray Scott) has stolen a deadly virus and its cure, impersonating Ethan Hunt while doing so. The real Ethan Hunt, who was on vacation, teams up with Ambrose's ex-girlfriend, expert thief Nyah Nordoff-Hall (Thandie Newton), to have sex and also to spy on Ambrose — who it turns out only has the cure, not the virus, and is going to break into the pharmaceutical lab where it was developed to steal some. All but one sample of the virus get destroyed, and Nyah injects herself with the last one so that Ambrose can't kill her. Ethan rides a motorcycle around Sydney before hugging Ambrose in mid-air and falling onto a beach, where they shoot at each other until Ambrose is dead, whereupon Ethan administers the antidote to Nyah. The film ends with Ethan and Nyah happily going off into the sunset together, Nyah never to be seen or mentioned again. Anthony Hopkins is the IMF boss, though I doubt Hopkins himself remembers this. 
NOTES: After not firing a gun at all in the first movie, Ethan shoots a whole bunch of dudes in this one — by far his biggest body count of the series. Between that and the introduction of a love interest, it starts to feel like a James Bond movie. That might be why this one got the worst reviews and has the worst reputation of the franchise: We already have a 007; we were hoping for something else. It is notable that this is the only casual sex Ethan has in the whole franchise, and that the woman he sleeps with doesn't die afterward. James Bond he ain't. 
---
Mission: Impossible III
THE MOVIE: Ethan Hunt has retired, like a coward, and is engaged to a nurse named Julia (Michelle Monaghan). IMF pal Musgrave (Billy Crudup) asks Ethan to help rescue one of the agents he trained, whose capture was maybe Ethan's fault for not training her better, who can say? They rescue her, but her head explodes anyway, upsetting IMF boss Laurence Fishburne, who has JUST ABOUT had it with Ethan's loose-cannon ways. The dead agent left clues for Ethan indicating that the arms dealer she was investigating, Owen Davian (Philip Seymour Hoffman), is planning to steal a MacGuffin called the "Rabbit's Foot" — whose purpose is never explained — from the Vatican. They capture Davian (Ethan has to dress up like a priest, obviously), but he gets away and kidnaps Julia, because Ethan was wrong to fall in love. There's a whole switcheroo with a mask. But it ends happily: Davian gets hit by a truck while wrestling with Ethan, Julia now knows Ethan's real occupation, and everything's going to be OK! Just ask Nyah!
NOTES: The other five films begin with a bit of action to whet our appetites, but this one starts in medias res then jumps back to the beginning. That narrative device is sometimes a crutch, but it works here because by the time we come back to that scene later in the movie, we understand its context differently.
This was J.J. Abrams' first movie, a job he got on the strength of Alias, his espionage TV show. (His next series, Lost, was just finishing its second season when M:I—III opened.) Philip Seymour Hoffman was the cast MVP, and watching the film now mostly just makes us sad.
Ving Rhames is only sitting down or standing still for 75% of his screentime, by far his lowest percentage.
---
Mission: Impossible — Ghost Protocol
THE MOVIE: An assassin (Léa Seydoux) kills an IMF agent named Sawyer from Lost and takes the Russian nuclear launch codes he had on him, so new field agent Benji (Simon Pegg) and experienced agent Jane Carter (Paula Patton) — who was Sawyer from Lost's girlfriend — break Ethan Hunt out of the Moscow prison where he's been chilling (don't ask) and go in search of "Cobalt," the code-named villain who's after the launch codes. Cobalt, who's really a crazy Russo-Swedish scientist named Kurt Hendricks (Michael Nyqvist), blows up the Kremlin while the IMF is sneaking around inside, making it look like the IMF was responsible, so the IMF has to go to "Ghost Protocol": officially disavowed but secretly still working at the behest of IMF secretary Tom Wilkinson, who immediately gets killed for his trouble because we cannot have nice things. IMF analyst William Brandt (Jeremy Renner) joins the team, hiding the fact that he's a field agent who took a desk job after he let Ethan's wife Julia die between movies. Ethan Spider-Mans the Burj Khalifa building in Dubai so the IMF team can trick some bad guys, and Jane uses the opportunity to kick her boyfriend's killer out of an upper-story window. Then everyone goes to India, where Ethan fights Hendricks in an automated parking garage like something from the climax of a Pixar movie. A nuclear missile is launched at San Francisco, but it's deactivated just in time. Oh, and it turns out Julia isn't dead, she's just living under a new identity in Seattle, which people used to do a lot in the '90s.
NOTES: Ethan Hunt is an American hero and patriot, but we haven't seen him set foot on American soil since his Julia-stalking scene at the end of this movie. Not that I blame him — you have to figure everything stateside is going to remind him of Julia or of the times he got chewed out by his bosses in Langley. On the other hand, I don't know that a Russian prison is preferable.
Ethan is underwater for about a minute when the car that he and Brandt are in plunges into the Moscow River. This is good practice for the next movie, when he'll be underwater for like half the film.
---
Mission: Impossible — Rogue Nation
THE MOVIE: Because of the destructive events of the previous film, a Senate committee disbands the IMF at the insistence of CIA head Alan Hunley (Alec Baldwin) — bad timing, because Ethan Hunt and his pals are this close to finding The Syndicate, an international criminal operation that the CIA thinks is just a ghost story IMF agents tell their kids. (Joke's on them — IMF agents don't have children!) Ethan goes off the grid for six months, then enlists Benji to help take down The Syndicate, aided by Ilsa Faust (Rebecca Ferguson), a disavowed MI6 agent who was working undercover for Syndicate leader Solomon Lane (Sean Harris). Everyone has to go to the opera, but it's more exciting than you'd expect, what with the assassination attempts. Brandt, instinctively knowing to trust Ethan over Hunley, gets Luther involved. They end up having to kidnap the British Prime Minister (Tom Hollander), who confirms The Syndicate exists but is surprised to learn that it's actually up and running since he vetoed it when MI6 suggested it. Solomon Lane is captured so he can be the first villain in the series to appear in more than one movie. Hunley goes back to the Senate committee and is like, "Yeah, shutting down the IMF was part of a secret plan, we need it back now, thank you," and the Senate goes along with it because they're a bunch of chumps.
NOTES: Ethan Hunt is only running, dangling, clinging, or in mid-air for 2.1% of this movie, his lowest of the series. Instead, he spends 4.2% of the movie — five and a half minutes — underwater. 
In my opinion, this film has the best itinerary of the series: Minsk, London, Paris, Vienna, and Casablanca. Of course it would be II that has the lamest (Utah, Seville, and Sydney, nothing against those fine places).
---
Mission: Impossible — Fallout
THE MOVIE: Two years later (even though it was three years for us, just go with it), Ethan and friends try to prevent some plutonium from falling into the hands of terrorists, fail to do so, and spend the rest of the movie getting it back. The new bad guys, the Apostles, are an evolution of a previous one, The Syndicate, and they'll only give the plutonium back if someone gives them Solomon Lane, their leader who was captured in a glass box at the end of Rogue Nation. Ethan is onboard with that plan, but another Rogue Nation alumnus, Ilsa Faust, needs to kill Lane to please her MI6 overlords. Also, the CIA has send a guy who looks like Superman but with a mustache to keep tabs on Ethan, and while he's useful at first, he turns out to be an Apostle (not the good kind) and leads Ethan on what looks like a very expensive helicopter chase. Lane's plan would kill Ethan, his team, Ilsa, and even Julia — everyone Ethan has ever loved (except the girl from II) — but fortunately his plan is not successful
NOTES: Having rewritten (uncredited) much of Ghost Protocol, in addition to writing and directing Rogue Nation and Fallout, Christopher McQuarrie becomes the prominent voice in a franchise that used to be notable for not having one. He ties this entry back to previous ones in ways both obvious and subtle (did you catch that the White Widow inherited the family business from her mother, Max?) and provides some closure for the Julia situation, which was established at the end of Ghost Protocol but never mentioned in Rogue Nation.
This is the only film in the series that starts with a dream, and the second one (after M:I—III) that doesn't start with straightforward narrative action. It's fitting that the two entries dealing with Ethan's love life would be the ones that start by disorienting us. It turns out the real impossible mission … was love.
---
TOTALS
Total runtime: 12:50:46
Average: 2:08:28
Ethan Hunt runs: 12:04
Ethan Hunt dangles: 10:50
Ethan Hunt clings: 19:47
Ethan Hunt is in mid-air: 3:49
Ethan Hunt is underwater: 6:32
Ethan is running, dangling, clinging, in mid-air, or underwater for a total of 53:02, or 6.9% of the time.
People physically harmed by Ethan Hunt: 75, for an average of 12.5 people per movie. That's counting even minor injuries (e.g., in Fallout, the six mercenaries in the back of the van who get tossed around and eventually tumble into the street after Ethan rams the Solomon Lane transport). Confirmed kills are hard to calculate because it's not always clear how severely the various henchmen are wounded in shootouts, but Ethan's policy of not killing unnecessarily means it's a low number. (For comparison, James Bond kills an average of 10.5 people per movie.)
Ving Rhames' total screentime: 47:36
Ving Rhames' total screentime where he's not sitting down or standing still: 6:39
If Ving Rhames is onscreen, there's an 86% chance he's sitting down or standing still.
Masks:
Ethan Hunt wears: Russian mobster Anatoly (I), U.S. Sen. John Waltzer (D-Va.) (I), rogue IMF leader Jim Phelps (I), virus-creating Dr. Nekhorvich (II), villain's goon Hugh Stamp (II), lead villain Owen Davian (III), Russian Gen. Anatoly Fedorov (nose only) (GP), MI6 chief Atlee (RN).
Sean Ambrose wears Ethan Hunt (II)
Hugh Stamp wears Ethan Hunt (II)
Davian's translator wears Ethan's wife Julia Meade-Hunt (III)
Kurt Hendricks (aka Cobalt) wears his own employee, Marius Wistrom (GP)
Benji Dunn wears: Wolf Blitzer (F), Syndicate/Apostles leader Solomon Lane (F).
Disavowal: Ethan and/or the entire IMF is disavowed in three of the six films, always for over half the movie. In total, he's disavowed 3:42:29, or 29% of the total runtime.
Foreign countries Ethan visits: Australia (II), Austria (RN), Belarus (RN), China (III), Czech Republic (I), France (RN, F), Germany (III, F), India (GP, F) Italy (III), Morocco (RN), Russia (GP), Spain (II), Ukraine (I), United Arab Emirates (GP), United Kingdom (I, RN, F), Vatican City (III).
And what happens next? They just took a new Cruise clone out of storage, so check back in three years.
---