"I can smell trouble right here in this apartment," Stella announces. "First you smash your leg. Then you get to lookin' out the window. See things you shouldn't see. Trouble!" She seems to be a pretty good nurse, but even better soothsayer; in that early scene of Alfred Hitchcock's Rear Window (out this week in a gorgeous new 4K edition, along with three other Hitchcock classics), she lays out exactly what happens to L.B. "Jeff" Jefferies (James Stewart) in week six of a seven-week, wheelchair-bound convalescence with a broken leg.
Plenty have read Rear Window as a hyper-personal "director's movie," and that scans. We can see what Jeff is doing – as he gazes out at the windows facing him, the courtyard between them, and the tics and rituals of the neighbors who occupy them – as akin to the kind of selection and focus that Hitchcock does in this and every film he makes. The opening shots of the picture are all subjective, all Jeff/Hitch's POV through those windows, but it's also theatrical; the film opens with the window shades dramatically rising, curtains on the big show outside. (Later, Grace Kelly's Lisa Fremont closes them with a flourish, announcing, "Show's over for tonight.")
After the credits end, Robert Burks's camera travels through those windows for a glance around at the courtyard. This extended sequence serves two purposes: we continue to settle into the perspective the camera will adopt through much of the film, while also acquainting ourselves with the geography of its primary space. (Most filmmakers can barely do one thing at a time; Hitchcock can, with seeming effortlessness, do two.)
But there's also a more loaded, and more frequent, interpretation of what's going on here; that in these "six weeks in a two-room apartment with nothing to do but watch the neighbors," Jeff has become an unapologetic voyeur. He never misses an opportunity to gaze lasciviously at "The Torso," the perpetually bikini- and underwear-clad dancer across the way, and Hitchcock never misses an excuse to cut back to her.
"People do a lotta things in private they couldn't possibly explain in public," notes his cop pal, Doyle (Wendell Corey), and he's not wrong; Jeff's eyeline is frequently inhabited by private moments none of us should see, thanks primarily to windows and shades that are open due to the sweltering heat. (One can't help but wonder how this story would've played out in the winter, or in the age of air conditioning.) The apartment building is located in Greenwich Village, we're told, though Hitchcock constructed the elaborate, multi-level set (complete with rooftop pigeons) on the Universal lot in California, and it feels like the kind of story that could only take place in the cramped quarters of Gotham.
But what's most fascinating about the film now, through a contemporary lens, is the way in which Hitchcock – the most openly horny filmmaker of the studio era – is subtextually telling a story of sexual frustration and roleplay. Before we even meet Jeff's significant other, he complains to his nurse Stella (Thelma Ritter) about her, and the pressure she's putting on him to settle down. He's "not ready for marriage," he insists, and he's specifically uninterested in the idea of coming home to a "nagging wife"; as if on cue, an unhappy married couple fights across the way. But the gallery of windows can suggest other possibilities as well; he also spies a pair of grinning newlyweds eagerly pulling the shade before consummating their marriage, or the apartment's sad singleton, "Ms. Lonelyhearts," as a warning sign of the perils of eternal singlehood. He can look around and see both his best- and worst-case scenarios.
Lisa Fremont seems like a best-case, and not just because she looks like Grace Kelly. Their repartee is sparkling; their chemistry is off the charts. They're clearly hot for each other (their kissing, all that Hitchcock could show us in a 1954 feature, is electrifying), and his irritated bachelor act is such a tiresome front, and she knows it. But they're at a point of frustration, and not just because of the decision point (whether or not to settle down and marry) they're stuck at. The unspoken aspect – again, 1954 – is that Jeff has been in a cast that goes up to his waist for six weeks. They kiss hungrily, but they can't consummate their lust. His broken leg and wheelchair make him immobile, but the cast makes him impotent.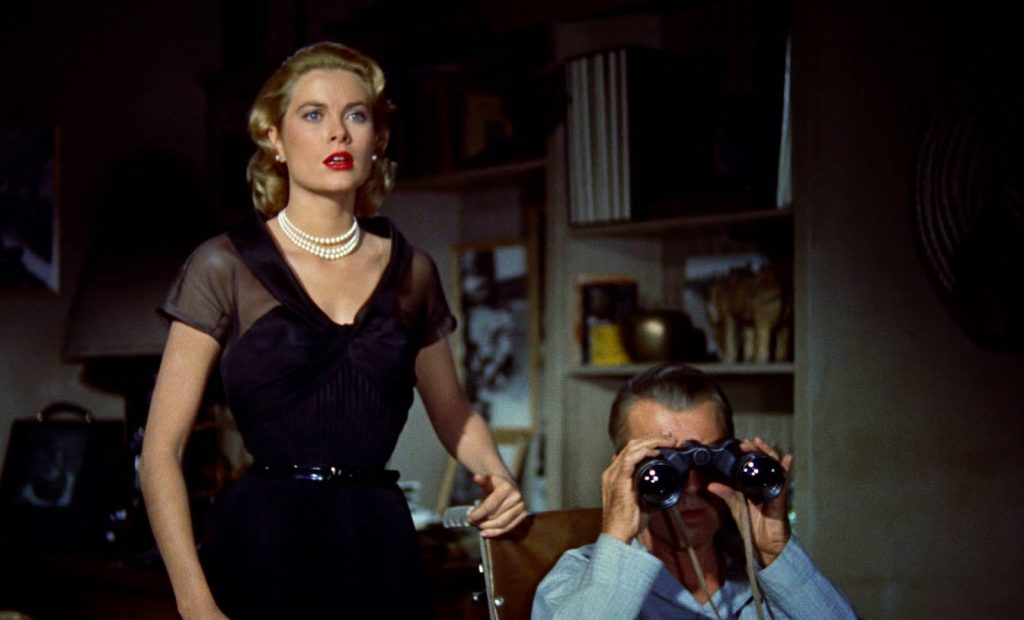 So they find other outlets. Early on, as Jeff becomes certain that Mr. Thornwald (Raymond Burr), his neighbor across the way, has killed his wife, he can't get his mind off it, even as Lisa is trying to make out with him, his mumblings intermingled with her sweet nothings. It doesn't take long for her to realize that if she wants to catch and keep his attention, she's going to have to insert herself into his obsession. She eventually becomes convinced by what he says and what she sees, and goes all in accordingly. But she senses the possibilities of sleuthing with him, of creating a power dynamic ("Hey chief, what's my next assignment?"), and then, and this is key, flipping it.
And so their suddenly dangerous partnership becomes a much-needed release valve for the sex they can't have. He watches her "perform" for him, dropping off the note for their mark; she jokes about having "to move to an apartment across the way" and "do the dance of the seven veils" to get his attention, but he ultimately has to view her through those binoculars to fully appreciate her ("Boy, you shoulda seen her," he marvels to Doyle). When Lisa returns from performing this errand, she asks breathlessly, "What was his expression when he got the note?" Hitchcock lingers on a close-up of Jeff's gaze; he looks like he wants to devour her. He is undeniably turned on by her, and the danger she's put himself into for him.
That will change, of course – later, he feels genuinely helpless and frightened while watching Thornwald hurt her, a potent reminder of the real danger, and real risks, of the scenes they're creating. But when she returns to him safely, he marvels, "Gee, I'm proud of ya," and like that, she's got him. In Rear Window's final scene, Lisa appears to have been "tamed"; she's not longer clad in the ornate dresses of the rest of the film, now relaxed, though still impeccable in a casual blouse and jeans (wearing the pants now, if you will), reading the "manly" magazine Jeff works for. But when she sees he's asleep, she casts it aside and picks up her preferred Bazaar. It's easy to read this moment as a broad "girls will be girls" gag, or some such regressive thinking, and maybe that's all it is. Or maybe that final moment is merely a confirmation that, whatever the norm of the moment, Lisa is always capable of switching roles – of re-asserting her own personality, and again becoming the alpha that so aroused her partner.
"Rear Window" is out this week on 4K Blu-ray disc, as part of the "Alfred Hitchcock Classics Collection." It's also streaming on Peacock and available for digital rental or purchase from the usual suspects.